Terrazzo Tiles from Terrazzo Australian Marble are manufactured only from the highest quality materials. Its innovative and eye-catching designs are crafted by the best artisans around. Most people place a premium on style and function and this is what Terrazzo brings into your home. You're like walking into a first class hotel lobby or high end-establishment every day that comes with years of trouble-free maintenance.
Terrazzo Marble Tiles can be manufactured in the factory to make on-site installation faster and easier pre-cast to your liking and specifications. It's that easy really! Terrazzo Pre-Cast is a concrete-based slab usually used in staircases, walls and skirts. You can have it specified to its thickness, width and finish.
Terrazzo Tiles have been extensively used in high traffic areas such as airports, shopping centers and the like proving its durability and strength in the toughest environments.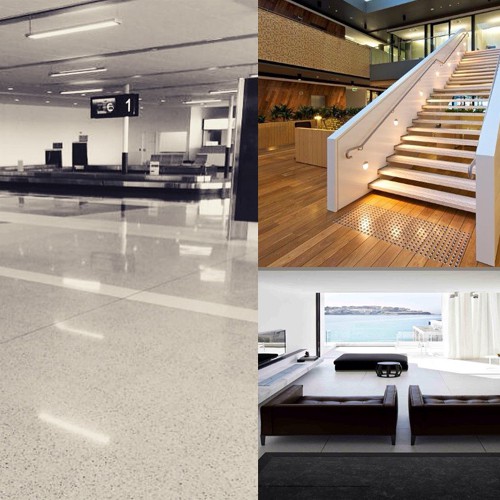 Why use Terrazzo Tiles at Home?
Why not? Good taste knows no boundaries. Let your imagination fly and as the saying goes "sky is the limit" and the timeless beauty of Terrazzo Tiles only magnifies it a thousand fold!
Use this unique and flexible interior building material to your full advantage and visual pleasure at home in your doorway, hallway, corridors, living room, stairs , receiving area and shower room flooring and partitions. Surely, you'll feel like your home is your castle!
When Less Is More
Modern contemporary design uses minimalism as a point of reference to create an incomparable feel and look using fresh designs and fine lines to create an illusion of a larger interior space. Pleasing to the eyes and soothing to the senses. Truly a different experience!
All Is Here
Terrazzo Australia Marble boasts of the widest line of Terrazzo Marble materials available in the market today to satiate the tastes of the interior design industry! From high-grade Marble Tiles with various finishes, Terrazzo Precast (steps and risers, skirting, wall panels, coving, benchtops, columns, and public furniture), Terrazzo Pavers, Terrazzo Partition and Engineered Stone Partition. Surely, you will find the product to suit your particular preference
Near Maintenance-Free
Terrazzo Tiles are designed with easy low cost daily maintenance as an added bonus. Giving you more time for what really matters: quality time for your family.
Different Color Choices
Choose from a variety of vibrant colors to suit your specific interior design concept. From toned down Black and Greys to Whites and Neutrals. The choices are endless!
Terrazzo Australian Marble
The choices and finishes are endless! Made from a mixture of cement, marble aggregates and pigments, terrazzo can either be made into precast elements or poured on site insitu. Polished, honed or brushed terrazzo can be tailored to suit a wide range of tastes and interiors.
Expert Opinion on Terrazzo
Most interior designers and architects are one in saying that Terrazzo Australian Marble Tiles, Pre casts, Pavers, Partitions, etc. have made designing for the modern home much easier and more convenient for the homemaker that values innovation, beauty and durability.
.