"Design" is the key word here. The right benchtop design choice makes your kitchen interior look more sophisticated and your kitchen area looking great! A terrazzo benchtop style right in the middle of the modern interior of your kitchen works very well in a home that has small spaces as a general rule. The "optical illusion" this kind of design eludes is a beautiful concept which projects an impression of a larger space even if you have limited space in your kitchen. It tricks the eyes because the benchtop usually has simple lines that do not disrupt the simplicity of the area.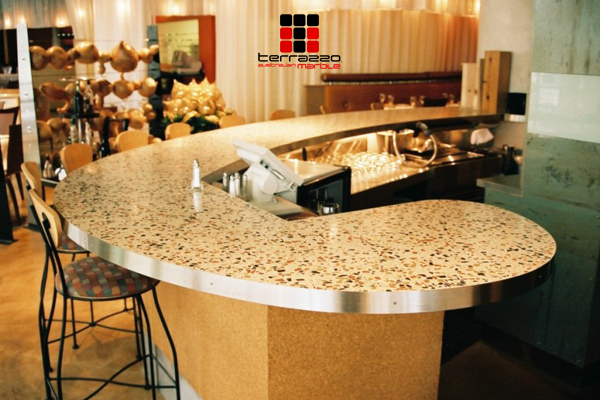 Advantages of Terrazzo benchtops for modern home interior
It's Flexible. Terrazzo modern benchtops can be precast and shaped to exacting specifications and easily installed on site. A 5 axis CNC machine enables Terrazzo Australian Marble to achieve complex benchtop shapes and sizes that meet challenging standards and come up with remarkable design results. If you can think and come up of a unique benchtop design or anything in between, we can manufacture it and install it in your kitchen!
It's Hygienic. Terrazzo benchtop is waterproof and has the non-porous qualities of acrylic solid surfaces. No worries if you accidentally spill water, wine or even fruit juices! Unlike other benchtop materials, solid surface benchtops are stain-resistant and easy to clean and maintain. The non-porous system does not support any microbial growth and does not permit the accumulation of moisture. In addition, this lack of water absorption and porosity results in a surface area needing only little cleaning. Continue reading "Great Looking Terrazzo Benchtop Designs for your Home"