Woodland greens, earthy blues, woody hues and colours and imperfect stone designs are today's major trend, together with the worldwide fondness to large format terrazzo-tiled kitchen benchtops and walls that complement an added design dimension to the house or building which is absolutely perfect for Australia's indoor-outdoor lifestyle terrazzo australian marble.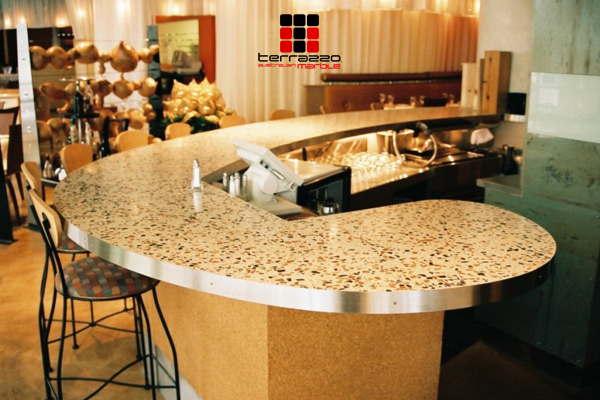 Big tile format continues to be the "in" thing in interior design with a modern design twist. Advanced and imaginative developments in terrazzo tile technologies have allowed these tiles to penetrate the exclusive art world, pushing the limits of what terrazzo can do and become in the near future. Colours from bold to soft greys and neutral tones, Terrazzo makes a bold statement bringing back old to new, flexible to use for floors and walls, kitchen benchtops and splash backs adding that exclusive touch. This brings about a shade of natural variation with the intense mix of organic materials and distinct designs. Bring unique style to life, combining geometrics, pattern, colour, structure, shade and texture. The year sees the seeming appearance of the perfect square (20mmx20mm) decorative tiles, embracing designs across the board from retro, funky 70's as well as geometric, heritage, metallic and encaustic cement. This resurgence of Terrazzo and the square format decoration together with the appreciation of organic imperfections in the terrazzo finish itself creates a distinct taste in the design outcome of this amazing construction material to the interior and exterior design of a place.
Radiating charm, character, and warmth these are the innate qualities that Terrazzo conveys to those who are captivated to its natural beauty and exquisite luxury. This year's inclination is roughly pushing complete confidence in showcasing variances in tone and shade, colour and design. Not being anxious and afraid of highlighting the many variations of the material in all its magnificence, but instead accommodating and appreciating it in its full glory! And, now after years of monochrome, pastel and Scandi-themed homes, rich colour is finally making a daring comeback to modern home's kitchens, living rooms and bathrooms. Homeowners and interior designers are becoming more open to bolder colours and design choices towards a more dynamic aesthetics; still timeless, yet perhaps more adventurous than pastels that have defined recent times. Accentuating trends will be bolder in the use of contrasting materials and varied textures in terrazzo tiles.
To a fault, today's modern homeowners are increasingly bringing in hotel-style extravagance into their homes and especially to the design of their bathrooms to which, once luxury extras are now becoming must-have features in the home. The impression of creating a sanctuary at home is becoming more and more widespread. Most progressive homes in Australia today have spas, bathtubs and walk in showers, walk-in wardrobes, custom dressing tables and makeup stations as among the once indulgent requests becoming standard interior inclusions. These fine touches enhance the feeling of a private retreat and bring a layer of luxury to the everyday experience and everyday rituals right in your own home.
These luxurious homes and bathrooms work as a reward mechanism to their owners. This indulgence in classy extravagance in the home is now trending in Australia.