Thinking of incorporating your business or company logo onto your office premises? No problem with In situ Terrazzo! With a wide range of amazing colours you can be rest assured that even a special trademark colour mix of your own and even the exact design of your logo can be achieved and replicated by our highly experienced craftsmen. With the advanced waterjet technology, in situ terrazzo is perfect for incorporating logos, terrazzo art, shapes and colours.   What more, and importantly it is impressing upon your clients that your business is strong as a rock since your logo is carved on long-lasting Terrazzo, one of the strongest man-made construction materials available in the planet!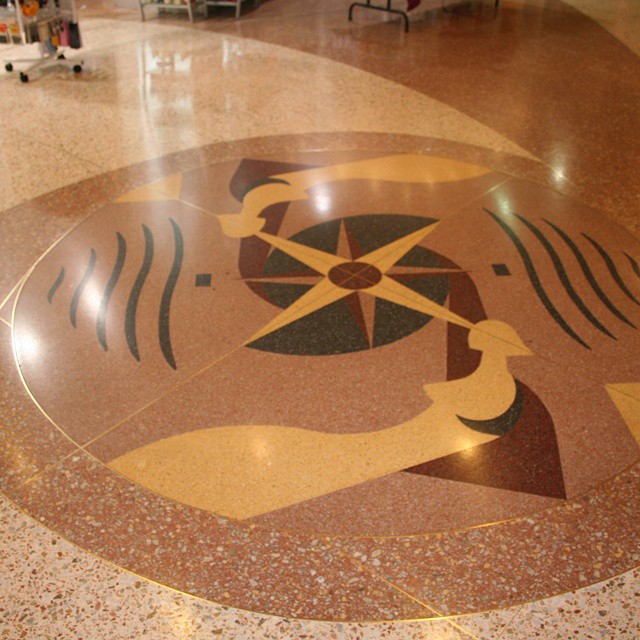 In situ Terrazzo is the finest quality flooring product around which is poured on site for a true seamless finish. This is basically the traditional terrazzo finish seen in most shops and houses throughout Venice, the birthplace of terrazzo. Considered by many builders and contractors to be the ultimate in long lasting seamless flooring, traditional in situ terrazzo floors are fabricated with bonded stone chips and Portland cement. In situ Terrazzo is a composite material poured in place which is usually used for flooring where there is high foot traffic because of its durability. Consisting of marble, quartz, granite, glass or other suitable chips; sprinkled and poured with a binder that is cementitious, chemical or a combination of both. In situ Terrazzo is cured, ground and polished to a smooth surface and finish. It is supposed to outlast even the building it is poured in! It is that tough!
Unique Flooring for your Company Logo
In situ terrazzo offers businesses and companies with a unique and durable canvas for their logo designs to shine through with an unlimited flexibility of materials and endless possibilities of concepts for shop logos and company emblems or works of art to be etched under their feet in their floor for all to see and enjoy.
Since Terrazzo offers a wide selection of finishes and innate, elaborate designs, the architect and the interior designer is provided with a lot of flexibility with the special finishes to meet their particular requirements!
Sealed Polished Finish—the standard finish recommended for commercial retail projects.  The terrazzo floor is ground on the site and a protective shiny sealer is applied to the surface floor. The sealer is maintained to ensure that the glossy floor always looks like new and like the day it was first handed over.
Machine Polished Finish– The terrazzo floor material is ground and machine polished on site with a penetrating sealer applied for added durability. This finish is suitable for low foot traffic areas.
Honed Anti Slip Finish–The terrazzo floor is ground on site to a honed finish. If a non-slip finish is the prerequisite a non-slip additive is added to the manufacturing process. Light colours are not suggested for this type of finish and epoxy grout is highly recommended as its special sealant.
In situ Terrazzo Flooring system offers businesses and companies the flexibility to incorporate their logos and emblems on their premises with the ultimate in durability and limitless colours and design flexibility. To be sure, your company logo will always stand out in the floor of your business premises!