Modern home interior design focuses more on having clean lines. It focuses on using basic geometric shapes. It does not utilize traditional decoration and uses simple materials such as glass, concrete and chrome. This guide will help select the perfect Terrazzo benchtop for your modern home motif.
The design philosophy of modern home is less is more. This design leverages mainly on white, grey and wood.  Minimal furniture and art pieces are displayed so as not to disrupt the simplicity.
What are the ideal places to have an urban interior design?
Ideally, this motif works very well with space with smaller interior (apartments, condominiums). Because the focus is having less decorations/furniture, this projects an illusion of a larger space. Busy professionals adore this motif since it is easy to maintain.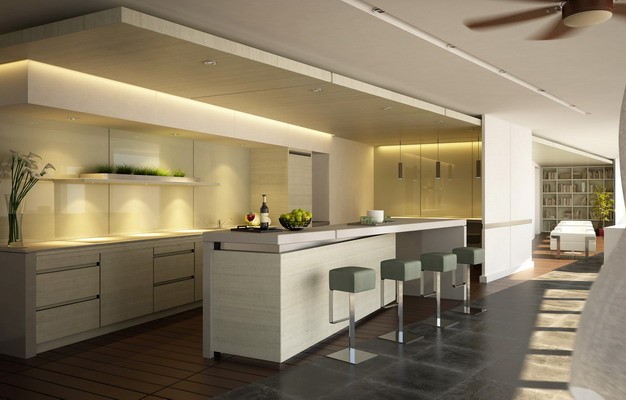 Terrazzo Benchtop Specifications
The specifications of the precast for Terrazzo benchtops are usually 38mm thick and has a maximum length of 1000 mm. The precast is made from Portland cement. It is mixed with sand, marble and mineral pigments. This produces the desired colors and textures perfect for the urban interior motif you have been dreaming about.
The different Terrazzo benchtops textures suited for urban interior
Black & Greys– Modern interior is dominated with white or light colors as its wall. Black and grey cast works very well on this. This projects bold contrast that is very appealing to the eye.
Whites– a darker shade of white can also work with this motif. The darker shade provides a subtle accent to the surrounding and blends very well with the theme.
Neutral – this can also work however you need to balance out the colors emitted. Colors should be vibrant so as not to disrupt the clean flow of the design
Colors– for sophisticated people, Terrazzo benchtop also offers different kinds of colors that will fit their modern home inspired themes.  Bold contrast using red and green can be used. This helps emphasize lines of furniture pieces.
What are the advantages of using Terrazzo benchtops for modern home interior?
Easy maintenance– The marble texture is very easy to clean. If dust and dirt are accumulated, you can wipe it clean with rug and water. The material used dispels stains better compared to wood.
Durability– unlike wood, our precast can withstand water. There is a tendency for wood to be damaged by water droplets over time. Glass can dispel water however it is not as durable compared to marble. This is built to last.
Elegance and sophistication– the texture and colors the desire of the owner to have a free and uncluttered environment. It creates an impression and atmosphere of simplicity and calmness. Combining it with your modern home makes your residence more relaxing.
Hope this guide enlightens you on the different benchtop motif you can use for your modern home. Terrazzo benchtops offer a wide array of precast themes. Feel free to browse around and find the perfect one for your lifestyle.