Have you ever experienced walking into a room and noticed a quick shift in your mood? Did you feel calm and relaxed? Were you overflowing with joy and energy? Or were you suddenly stressed out and overwhelmed? Interestingly, the emotions you feel upon entering a room have something to with the room's color, such as walls and tiles.
It's been scientifically proven that colors have psychological impacts on our mood, behaviors and stress level, as people tend to have similar reactions on certain colors. Therefore, it's important to take your time when selecting the color of your floors to achieve the vibe that you want from your rooms in your home. Here are some popular tile colors and the familiar feelings they evoke to help you along in the process.
Blue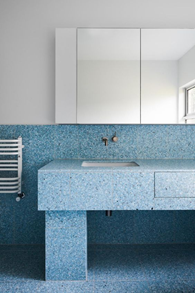 Blue terrazzo installation in a bathroom
Tranquility, serenity, trust, wisdom, and peace are usually associated with the color blue. It's considered as one of the most stable colors as it is greatly present in nature, thus creating a calm and comfortable setting. Therefore, it would be an outstanding tile color for your bathrooms, bedroom, and living rooms. In fact, you can also have it in your home office as it helps maintain concentration, lowers your heart rate, and boosts productivity.
White
White terrazzo stair installation
The color white typically conveys cleanliness, purity, freshness, and simplicity. When it's used for a home design, white floor tiles and walls can make your room spacious. However, do take note that an abundance of white in a large room can come off as bland and sterile, so you can put accents of other colors to have a more interesting design. When used properly, a white tile would look elegant, even more so if it's terrazzo, and would be perfect for modern kitchens, bathrooms, laundry rooms, and more.
Yellow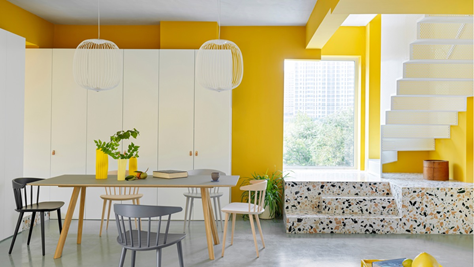 Yellow walls with terrazzo accents
The color yellow creates feelings of happiness, creativity, success, and determination. Research has found that it also increases oxygen supply to the brain, produces an energizing effect, and stimulates brain activity. When designing for your home, consider the color yellow when you want to evoke sunshine.
Do keep in mind though that brighter shades of tiles are best for smaller, minimal applications, such as kitchen backsplash tiles. Combine bright oranges with yellow and red to create an energetic atmosphere. On the other hand, light or muted yellow would be easier on the eyes, so more tile can be used in this case.
Turquoise & Green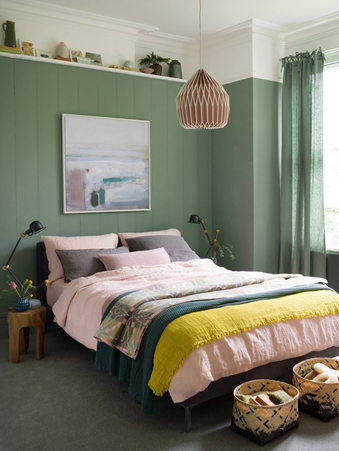 If you're trying to achieve harmony, happiness, and emotional safety, then the colors turquoise and green are for you. These colors are very restful and relaxing for your eyes because they are associated with nature, tranquility, and healing. It would be an excellent choice in any room.
Still not sure what color best suits you and your design? Here at Terrazzo Australian Marble, we have an abundance of colors to choose from, in fact, we can even customize for you. Let us help you choose the best tile for your home today by contacting us.terr