Pre casting is a construction method where various elements of a structure, office, restaurant, abode or shop is manufactured and cast in its finished form in a factory and transported to a particular place for easy on site installation. One of Australia's leading manufacturers of Pre cast Terrazzo finishes is Terrazzo Australian Marble Property Limited which prides itself in wholly controlling all aspects of its Terrazzo process to provide its customers only the best. When a builder, architect or interior designer or a homeowner uses the Pre cast Terrazzo process in a building project, construction time is likewise diminished significantly because the pre cast terrazzo parts of the project can be manufactured in the factory at the same time during the initial construction phase of the building, office restaurant, shop or house is still underway. The delivery and on site installation of the precast terrazzo can be scheduled at the very same time the particular portion of where a particular piece is needed plus the contractor does not need a safe place to store a particular piece of terrazzo for safe keeping since he simply needs to inform the manufacturer the number of precast terrazzo pieces he needs to install for that particular day. Simple and easy enough to understand if you worry about theft and breakage while on the construction site.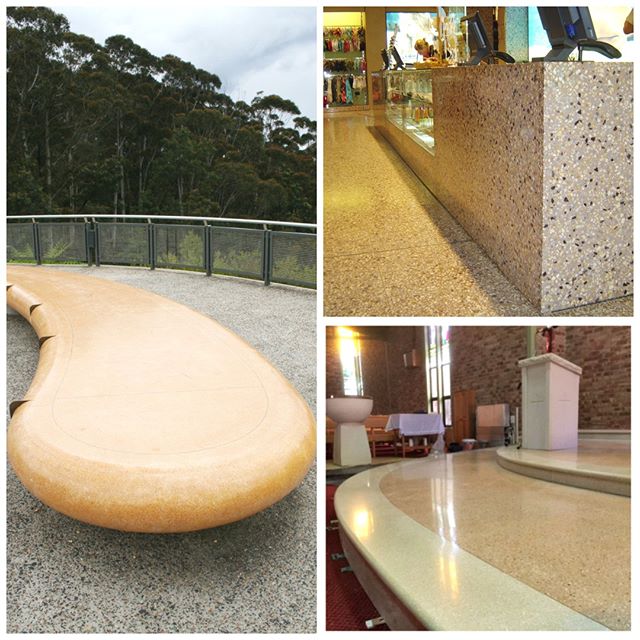 Precast Terrazzo Applications
Pre Cast Terrazzo are utilized in various and very beautiful applications which include steps and risers, skirting, wall panels, coving, benchtops for kitchens, bathrooms or lavatories, and work areas in general, columns, shower partitions and more recently public furniture in parks and walkways. Terrazzo Pre casts is available in exacting standards in various sizes and attractive finishes. The 5 axis CNC machine enables Terrazzo Australian Marble to accomplish complex shapes and sizes to challenging standards with remarkable results. Your wild imagination is the only limit in exploiting the magic of pre cast terrazzo manufactured by Terrazzo Australian Marble.
Pre Cast Terrazzo is available in various dimensions, thickness and finishes that suits your particular requirement. The cost effectiveness and less time consuming process of using Pre cast Terrazzo is why knowledgeable architects, choosey interior designers and intelligent storeowners and homeowners specify Pre cast Terrazzo in their properties, shops or business offices.
For over 40 years and counting Terrazzo Australian Marble has been a pioneering part of the Terrazzo industry in Australia. It owns and operates 5 marble quarries and manufactures its individual pre cast elements in its private factory equipped with the latest machines from around the world with its state of the art tile presses, CNC polishers, grinders and saws thus enabling the company to produce construction materials to exacting standards with the newest in marble production technology.
The company prides itself in installing all of its products with a team of craftsmen whose experience in terrazzo is without doubt unchallenged in the industry. Terrazzo Australian Marble Property Limited is fully compliant with OHS and environmental standards, quality guarantee, and is fully insured.