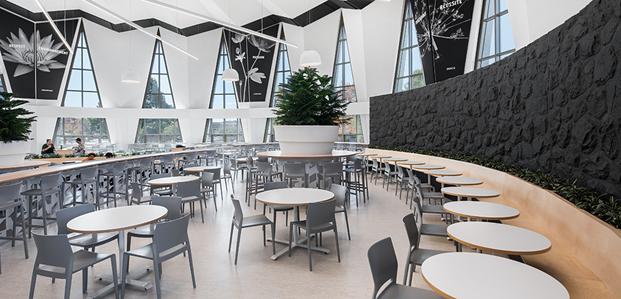 In this Terrazzo Australian Marble's Featured Global Spot article, we highlight an educational institution in Montreal Canada that's created a space for quality training and education by creating a green suburban haven for students and adult learners. The play of modern and historical values combined concrete, metal, terrazzo, and wood, with unique shapes and colors.
With over 600 employees and 3,800 students attending the institutions regular education programs, Cégep Marie-Victorin is a higher education institution that has been offering and maintaining a tradition of excellence from the time it was a private college, to the time it became public in 1993, and even up to this day. When higher education institutions and the training industry globally has had massive transformations when in comes to delivering knowledge to students, this institution has successfully navigated the challenges by prioritizing the improvements of its facilities and spaces.
In the summer of 2019, the Cégep community took a big undertaking by completing the major redevelopment of its common areas and the facilities of select departments. With the help of the departments of interior design, graphic design and visual arts, the institution was able to create fresh, crisp, and modern spaces which maximized the shape of the original building.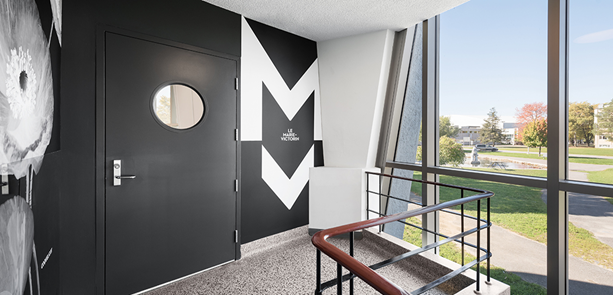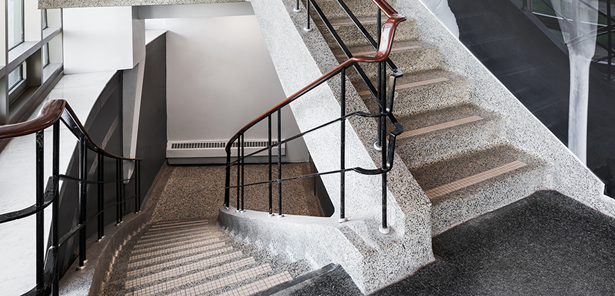 Light falling and illuminating the cafeteria's unique features makes the space bright and engaging. Acoustic panels also make the place conducive for communication and discussion. An interesting feature is the presence of floral motifs which standout against the varying materials used for the flooring, one of which is terrazzo. According to this article from the World Architecture News, the floral motifs are tributes to Brother Marie-Victorin, a great Botanist who gave his name to the institution.
This space is a clearly a case of pushing modern design while preserving historical dignity of a space and answering the need to provide an environment for effective learning and growth.
Terrazzo Australian Marble's Featured Global Spot is a series of articles featuring noteworthy spaces, created with ingenious architecture and interior design from around the world. To learn about Terrazzo and how it can be incorporated in your design and projects in Australia, talk to Terrazzo Australian Marble today. (Photo credits: Vincent Brillant | World Interiors News)
Terrazzo Australian Marble does not own nor claim any rights over images, graphics, or any visual assets posted in the blogs section of our website. Please visit cited links and sites for full details