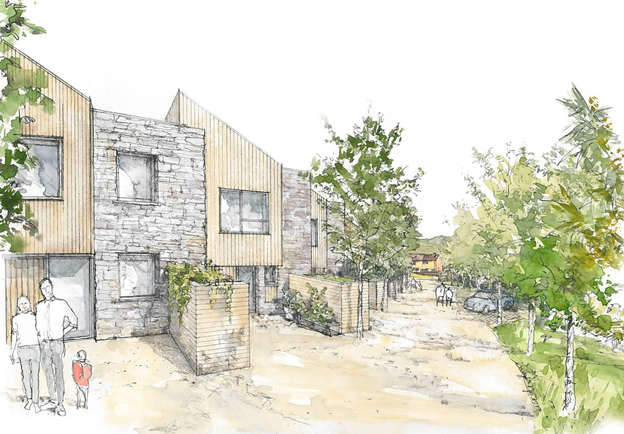 If improvements are to be made with how people live, it must start at home. This is the reason why residential buildings continue to be at the forefront of priorities for innovations when it comes to finding ways to lower carbon emissions. From building efficient homes by using passive design principles, to selecting sustainable materials, such as bamboo, timber, stone and terrazzo, the climate crisis demands for more conscious and immediate answers to be used and implemented today onwards.
This Terrazzo Australian Marble's Featured Global Spot article presents a residential development in Wales that has responded to the call for carbon neutral residences for the future.
To expound a bit on zero-carbon housing, these are single family dwellings which are designed to have very efficient use of energy (also more commonly called "energy efficiency".) Think about a single unit conceptualized and designed to use the least energy possible, from construction to actual use. An architect and the builders may feel a real sense of achievement by having produced a climate-responsive unit. But imagine the impact of replicating this efficiency across a community of houses – you have a community of people living responsibly by limiting their carbon emissions daily.
Parc Hadau was designed to be a carbon neutral neighbourhood in Wales. Having received the Welsh Government's Innovation Housing Programme fund, this community intends to battle the climate emergency by employing a passive design approach and renewable energy technologies. Passive design means the design of every house ensures a correct balance of daylight, heat loss, and thermal efficiency so that the dwellers need not use more energy to live more comfortably.
The beauty of Parc Hadau's community is that efficiency does not stop indoors. Residents will also be encouraged to travel more sustainably with the provision of electric car charging ports and storage areas for cycles for every residence. Car club facilities will also be available for residents to also reduce the demand for private car ownership.
The demand for efficient and responsible homes and communities will continue to soar as people become more conscious of their lifestyle's impact to the environment. Preparing and building the dwellings of future generations is the responsibility of architects and designers today. There will never be a better time to aim for responsible lifestyles across countries and around the world.
Terrazzo Australian Marble's Featured Global Spot is a series of articles featuring noteworthy spaces, created with ingenious architecture and interior design from around the world. To learn about Terrazzo and how it can be incorporated in your design and projects in Australia, talk to Terrazzo Australian Marble today.
Terrazzo Australian Marble does not own nor claim any rights over images, graphics, or any visual assets posted in the blogs section of our website. Please visit cited links and sites for full details.