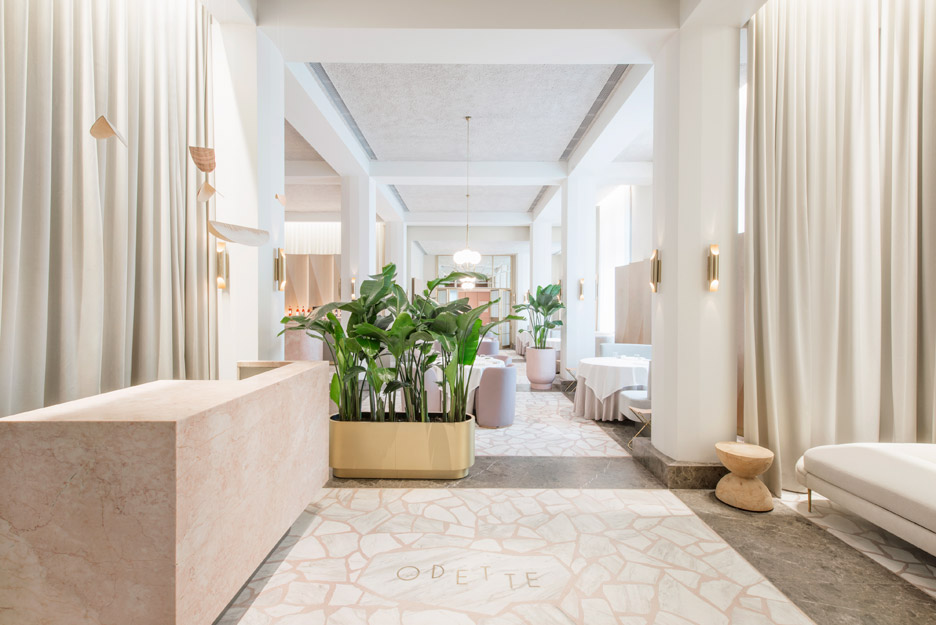 Blushing in pink, this interior design matched classy terrazzo flooring with marble, wood, and grey velvet elements. Odette is an elegantly-designed restaurant located at the historic National Gallery in Singapore. Named after chef Julien Royer's grandmother, this restaurant delights customers by serving Modern French Cuisine and a lavish and immersive environment.
One key feature of the interior design is the glass-enclosed kitchen where diners can get close to the chefs and witness the craft and talent put into every dish prepared. Designed by Sacha Leong of Universal Design Studio, the muted tones of all the elements coming together are complemented by the irregularities of the patterns on the terrazzo flooring and the stronger metallic elements such as plant pots, wall lamps, etc. The drinks bar is also blushing in pink, making the experience of getting drinks and being served with fine wine and cocktails very light and enticing, versus the dark designs of typical bars serving drinks.
There are several approaches in using terrazzo in order to achieve a similar theme or feel. It is important to establish the core colors of the design and determine the terrazzo aggregates that would bring out the right shade to match the identified colors. Talk to a Terrazzo expert today and learn how your terrazzo can achieve a light and soft color finish for your design project.