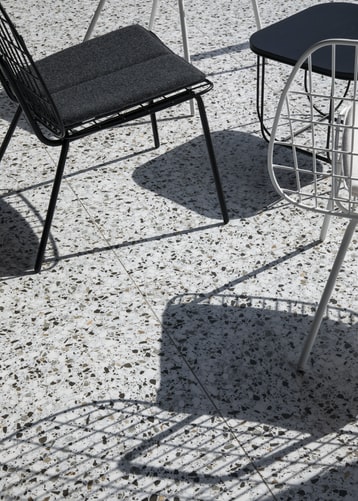 It is not surprising when people say that terrazzo is not their first choice when it comes to interior design. Some just don't have the courage to incorporate the striking colors and designs of the material into their homes. With the materials used to create terrazzo such as pieces of marble, quartz, granite, or glass, you would really expect elegance that can be blended in modern-day homes. Terrazzo can be quite lovely or rather utilitarian. Either way, they're amazingly durable.
Terrazzo is more than just its beauty because it is a choice when you consider aesthetics, functionality, and practicality. Being one of the most versatile materials in the market now, it can be used from floorings, kitchen islands to accent walls.
Italian Origin
The beauty of terrazzo originated in Italy. The word terrazzo stands for "terrace" in Italy. According to archaeologists, it was first used as early as 9000 to 8000 BC to denote the floors of early-Neolithic structures. According to research by the Library of Congress, today's Terrazzo floors are the direct descendants of the ancient world's—specifically Rome, Greece, and Egypt—practice of designing and building mosaic floors.
And that's probably why every time you look at terrazzo, it's so majestic as if it would fit in perfectly in an ancient temple or mausoleum.
Environmental Friendly
Not a lot of people know about it, but terrazzo is actually sustainable and good for our environment. If you want to keep your home clean and healthy, terrazzo tiles do not allow moisture to accumulate unlike other materials. In fact, it also doesn't support microbial growth and will only require you to use a neutral ph cleanser for maintenance, which doesn't irritate the eyes, nose, and lungs.
Again, it's more than just its elegance because may seem expensive for the initial cost, but arguably, it is the most durable and lowest life-cycle-cost flooring available in interior design. The two types of terrazzo floors have extremely low maintenance costs, and annual stripping and resealing can utilize environmentally friendly water-based products. Damaged or worn terrazzo can usually be matched, repaired, and refurbished at a fraction of the cost of replacing the flooring.
Terrazzo has proven itself to be a sensible choice because of the beauty you can achieve at such low maintenance cost. On top of that, the history of terrazzo is as fascinating as the tile itself is visually attractive.
Terrazzo Australian Marble is an Australian company that has been present in the industry for over 40 years. We pride ourselves in controlling all aspects of the terrazzo process. The company also installs all of its products with a team of tradesmen whose experience in terrazzo is without peer in the industry. The company is fully compliant with OHS and environmental standards, quality assurance, and is fully insured. If you want to know more, call us at 1300 903 082 or visit https://terrazzo.net.au/contact/. We'd gladly help you achieve the terrazzo design that you want.