The great outdoors or more to the point, the great Australian cosmopolitan outdoors will certainly look more pleasing to the eyes with Terrazzo Pavers from Terrazzo Australian Marble. Terrazzo Pavers add a more sophisticated look to outdoor malls and specialty shop walkways, swimming pools, patios, public walk ways, theme parks, hotel entrances, street sidewalks, backyards and a host of other outdoor installations. Its sturdiness is perfect for heavy foot or pedestrian traffic areas. What more, these Pavers are manufactured with safety in mind with its anti-slip and easy to clean with its honed finish as a standard. Plus and more importantly, Terrazzo Australian Marble range of external terrazzo pavers are hermetically pressed to produce a durable tile that will withstand the elements; come rain, sun or snow for years and years to come. Unique and colorful, Terrazzo Pavers adds a touch of difference and more exquisiteness to the surroundings. Most architects, builders and homeowners are mesmerized by what Terrazzo Pavers can achieve in the overall design concept of a particular construction venture.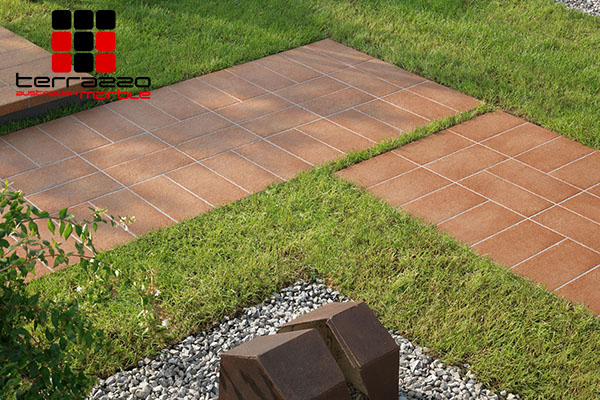 How it's made  
Terrazzo Australian Marble takes pride on how its Terrazzo pavers are manufactured in its factory. Made with various hard aggregates such as granite, river pebble, quartz and basalt expertly combined and mixed with a strong cement binder. The pavers are honed in the factory and shot blast to give the tiles an anti-slip texture for your safety and protection. Each tile is individually chamfered (or cut in a groove or bevel) for that distinctive and prestigious look.
Terrazzo Pavers Adds More Value to Property
Terrazzo is at this very moment the crème de la crème among pavers. Its finer finish equally blends better to arboreal and beautifully tailored landscapes. It provides an overall relaxing effect to the senses. One of the stronger points of Terrazzo is its innate ability to conjure up more complex shapes, hues and designs that adds character to the surroundings where it is utilized.
Terrazzo pavers give the impression that adds more value to the worth of an outdoor place, building or property with its natural elegance and splendor- building factor. After all it is assumed that an elegant image and the right projection can speak for itself. Terrazzo Australia Marble Terrazzo pavers can be easily matched to various precast units such as stairs, coping, curbing or public furniture. Offer unique look. Colors and shapes offer more design flexibility for your projects.
In a nutshell Terrazzo Pavers are extremely durable and can handle all types of weather and outdoor conditions while offering easy cleaning. Contributing to the upscale look of the property, reason why most high-end establishment utilizes this specific flooring.
Installation by Australian Professionals
Let the professionals do the dirty work and you come up with the best installation available in Australia. Terrazzo Australian Marble engineers and marble layers do the job of installing your external Terrazzo pavers with the best materials around and you will surely see the expert difference in the quality of work and the savings in your installation costs.
Terrazzo Paver Colours by Terrazzo Australian Marble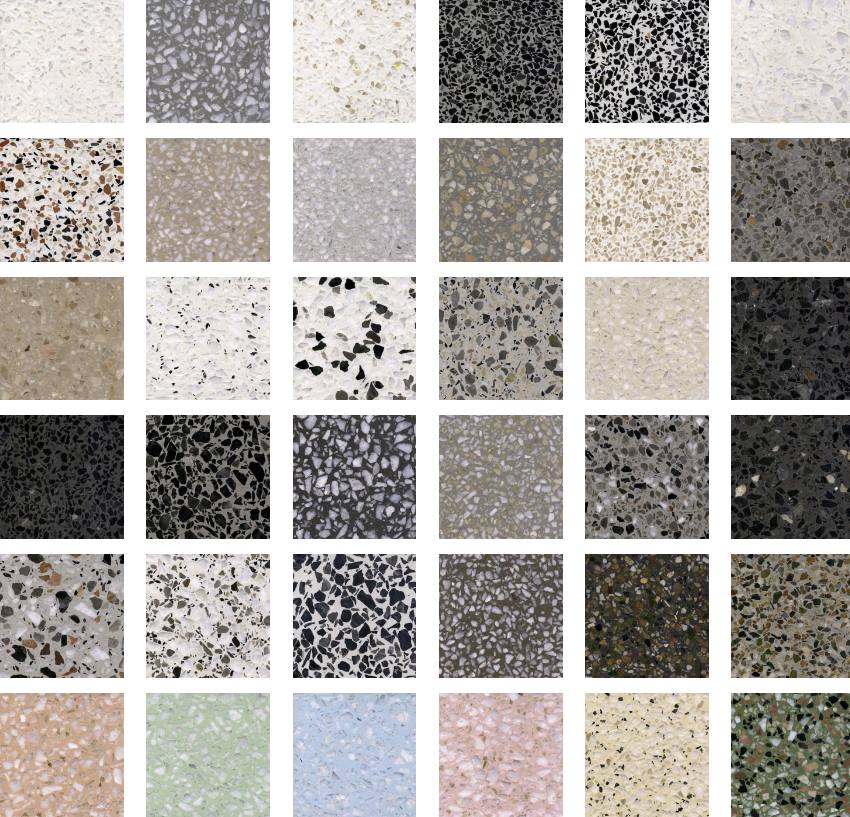 Sizes Available
. 400mm x 400mm      . 300mm x 300mm
. 600mm x 300mm      . 400mm x 600mm
Thickness:  32mm – 40mm – 50mm