Terrazzo has been around for hundreds of years, from classic designs to modern creative applications. Now, terrazzo is appreciated in every major city in the world.  From flooring, wall installations, stairs, countertops, and other imaginative design concepts. Terrazzo has certainly and steadily become the preferred building material by designers, builders and architects and homeowners.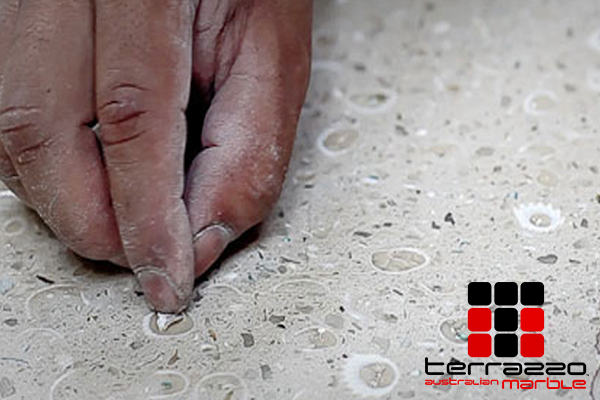 Cleaning Terrazzo: Products to Use or Avoid
Nowadays Terrazzo can be found on upscale designer houses, shopping centres, glitzy shops and even outdoor areas such as gardens, parks, pools and promenades. The acceptance of terrazzo as a preferred flooring system comes as a result of architects, homeowners, interior designers, builders and business owners realizing that its easy care and maintenance makes it the most cost-effective choice to other flooring systems. Plus the fact that terrazzo is also one of the most durable flooring system to date.
Now like most flooring systems, your precious terrazzo floors should be taken cared of properly if not it will naturally eventually show signs of wear and tear.  To avoid ruining your terrazzo it is important that you know the right way of preserving and cleaning them.  What products are best suited for cleaning, what products will do more harm than good?
Ammonia and acid-based detergents and cleaning solutions, abrasive scouring pads and alkaline strippers are products you should NEVER use on your terrazzo.  These products contribute to the deterioration of the terrazzo stone chips.  Deteriorated terrazzo will chip more easily and crack than properly maintained terrazzo.  For homeowners or those going the Do-It-Yourself way in cleaning your own terrazzo, it is advised that you consult the terrazzo technicians that installed it to get a list of products that are best for cleaning it.
Even Terrazzo that are regularly waxed and buffed are prone to damage and deterioration if the wrong kind of wax stripper is used. To avoid permanent damage to your terrazzo always check product labels.  Or use environmentally friendly cleaners for your terrazzo.
Ways of Repairing Fine Line Cracks on Terrazzo
If fine line cracks appear on your terrazzo there are three easy ways to repair them without having to call in the professionals right away.  But it is advised that you at least consult with the people who installed your terrazzo before you proceed with any Do-It-Yourself repairs.
Cement Patch
If Portland cement was used as binder on your terrazzo then fine-line cracks or chips can be repaired using a cement grout.  But, sad to say this type of repair method is labour-intensive than patching with epoxy. But this method is more durable and cost effective in the long run.
Oil-Based Primer
If an oil-based primer sealer is used it will help seal the surface area surrounding the tile and fill in the pores of the affected area. With this type of repair, it will only hide small fine-line cracks but it may not be able to prevent any existing cracks from widening.  It is suggested that this repair method should be followed up with a two-part epoxy sealing.
Epoxy Patch
This type of repair not only fixes fine-line cracks on your terrazzo surfaces; Likewise  it also helps prevent the crack from widening further more thus preventing additional damage to your terrazzo.