Terrazzo is widely considered as an eco-friendly or green building choice. To manufacture and create terrazzo, manufacturers use recycled materials as composite elements. Of the available construction materials in the market today, terrazzo is recognized as one of the more sustainable and environment-friendly. This is because of the various aggregates that make up the terrazzo. Terrazzo is typically made with cement with the addition of materials such as discarded marble bits, quartz, porcelain, granite chips, crushed rock, river pebbles or post-consumer glass. Terrazzo provides a unique and beautiful solution for any surface. The use of these post-consumer composites makes terrazzo an eco-friendly mix because nothing is wasted and much of everything is recycled. A combination of these various scrapped material are processed and added into the terrazzo mix to create a uniquely designed pattern in a wide mix of colours for any project scheme. The product's exclusivity is also what makes terrazzo one of the most design-flexible materials available to builders, interior designers and home makers alike. Terrazzo materials boast of high sustainability and proven durability without any problems arising that cannot be dealt with regarding its design.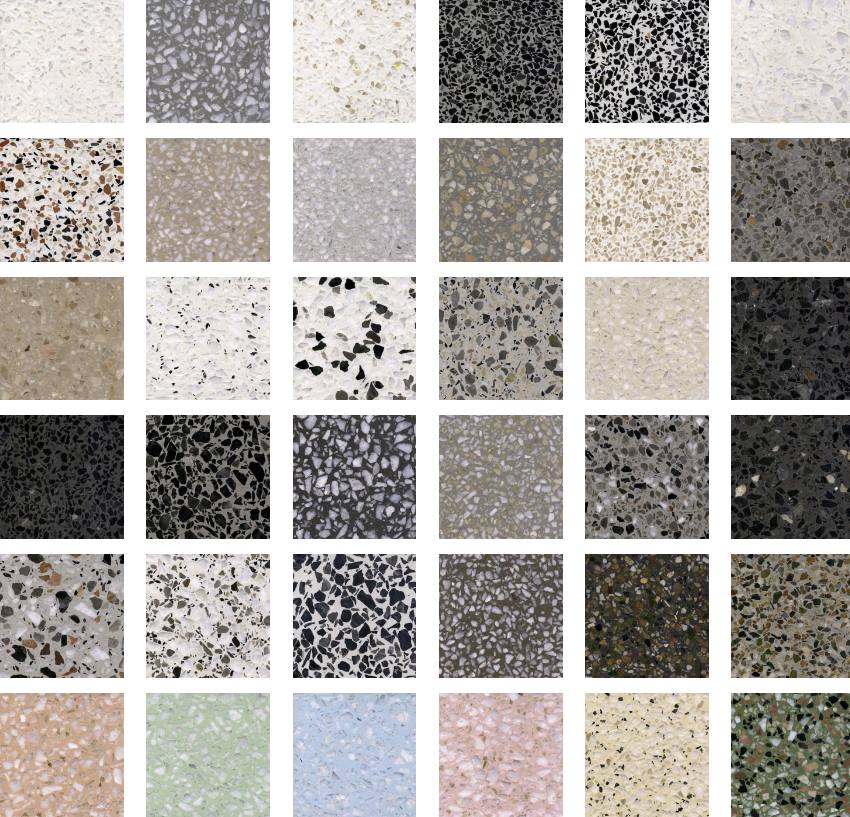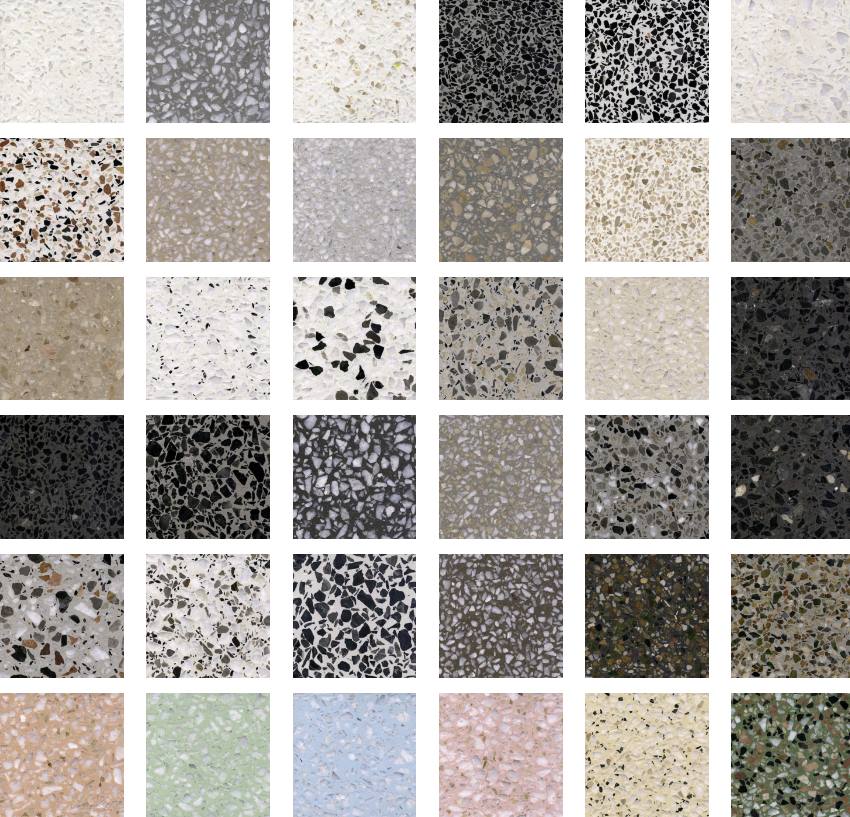 Nearly 500 years ago, early stone skilled workers accidentally discovered terrazzo as a building material in Venice, Italy when these resourceful Venetian workers were left with huge piles of unusually shaped fragments of marble cut from the conventional shapes made from marble slabs from the construction of "Venetian Terraces." This is where the word "Terrazzo" in Italian was derived from as we use it today. The discarded marble bits and pieces were "recycled" by the workers and artisans to cover their earthen clay living quarter's floors. While the fragments may be rough at first, in time as the fragments set in the earthen floor, the labors decided to smooth the irregular edges with hand stones making for a more comfortable level walking surface. This essentially was how the now highly sought after and vastly regarded terrazzo tile was discovered and put to good use in the annals of the construction and building industry today, hundreds of years later.  
Nowadays, terrazzo is used in numerous eco-friendly and green applications and is available in virtually any design and any colour imaginable with the large number of aggregates that can be used with the material and with finishes and mixes. Due to its known durability, this construction material is harnessed in high foot traffic areas such as airport terminals, railway stations, malls, shopping centres, retail establishments, modern homes and business offices. Terrazzo provides a design flexibility that is limitless. The architects' or interior designers' imagination is its limit. Only token cleaning is necessary even when installed in high foot traffic areas. Terrazzo is easy to maintain, a mop and a good cleaning solution does the job. There is a wide range of eco-friendly, beautiful and long lasting terrazzo products in the market: Tiles, In situ, Pavers, Precast (Steps and Risers, Skirting, Wall Panels, Coving, Kitchen and Work Area Benchtops, Columns and Public Furniture, Engineered Stone Partitions for Toilet and Shower, Vanity Tops and Urinal Screens) they all offer you eco-friendly solutions and safety of use.