The many uses of terrazzo as a building and flooring material are limited only by your rich imagination and design in mind.  Today's pre cast elements and applications now boast of uses that include Stairs, Steps and Risers, Skirting, Wall Panels, Benchtops for kitchens and other work areas, Covings, Bathrooms or Lavatories, Columns, Shower Partitions and Engineered Stone Partitions and in more recent times as beautifully crafted Public Furniture in city parks and walkways. These terrazzo elements are usually manufactured in the factory to exacting standards with beautiful and striking finishes. In situ terrazzo on the other hand is where the terrazzo material is poured on site in the traditional technique giving one a truly stunning floor that will in all likeliness outlast the building in which it is installed in. The terrazzo material that we are talking about here is proudly Australian quarried, designed, manufactured and installed by highly experienced and expert craftsmen using the latest equipment from around the world including top of the line tile presses, 5 axis CNC processing machines, and CNC edge polishers which enable the company to have the ability to produce building materials and finished products of exacting standards.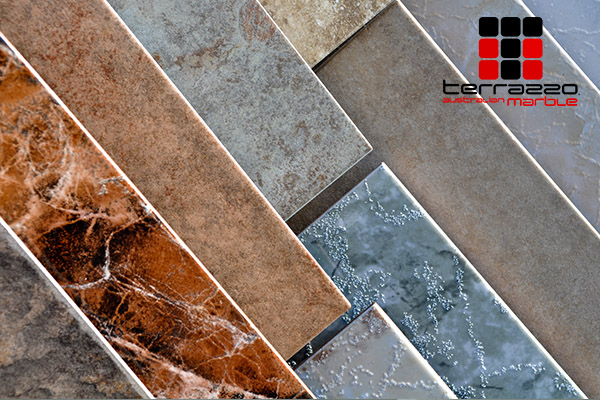 Let your very own dream design for your flooring or precast elements take flight with the versatility of terrazzo in the hands of the experts, Terrazzo Australian Marble. Well-known Architects and celebrated Interior Designers and building designers opt using this highly adaptable and versatile material when it comes to coming up with grand schemes for their designs and plans for business development projects and house plans or city landscaping projects. Terrazzo can contain any, all or a combination of marble, granite, quartz, glass, sea shells, metal shavings, wood or any other suitable chip, sprinkled & poured with a binder that can either be epoxy , cementitious or polyacrylate finish. These various mix of natural aggregates and colour elements make it a truly adaptable building material. You can use terrazzo even in high foot traffic areas with the normal wear and tear being the least of your problems especially with today's many technical advances in terrazzo production and methodology. Terrazzo's resilience is most evident in mosaic tiles centuries old that have been found in near perfect condition in ancient buildings and plazas. Extremely beautiful, remarkable and luxurious terrazzo is truly a wonderful material for flooring systems and precast elements! And, to make terrazzo tiles and precast elements the fancy of your building or flooring project even more the wiser choice, this great material is so easy to clean and maintain: a damp cloth or mop will effortlessly wipe away accumulated dirt and soot.  A polishing agent can then be mop-applied and you can simply let dry for a shiny new finish that looks like the day it was handed over!
Only your creative mind can imagine the endless assortment of designs you can come up with terrazzo. As many great artists, interior designers, architects and daring trendsetters would say, here is your raw material, now be bold and create what your heart desires and be an innovator!