Terazzo was first invented by Venetian mosaic workers in the 15th century. It was composed of mix marble, quartz, granite, glass and other material chips, all embedded using cement or epoxy.  Then it is cured on the ground and smoothly polished to produce this elegant textured surface. It became very popular during the mid 20th century, it is often associated with contemporary design during that era.
Lately, terrazzo has been gaining traction in a lot of construction projects. Malls loved this material. High end residences use it as core materials for their projects. Terrazzo is considered one of the most durable tiles in the market nowadays. It has beaten it stone rivals.
On this article, we will introduce a new texture for terrazzo that will surely make an impression to you. Marvel Gems are the next big thing this mid 2017 to 2018. You can gain new design inspirations from these:
Marvel Gems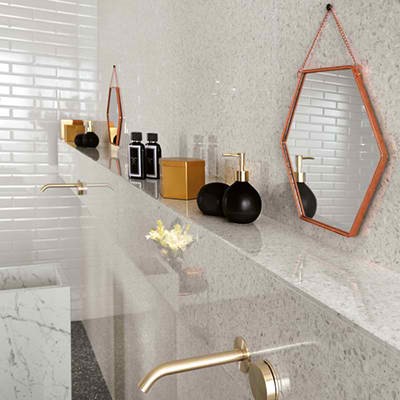 Source: National Tile
Marvel Gems came from Atlas Concorde (Italy). It is a collection of ceramic tiles that combine the look of Venetian Terrazzo with pearly look of porcelain and white body wall tiles. It is a complete range of floor and wall tiles.  These tiles give an impression that is magnified through shards, inserts and fragments. It replicates marble. It creates an atmosphere of fascination to those dwelling on living and commercial areas.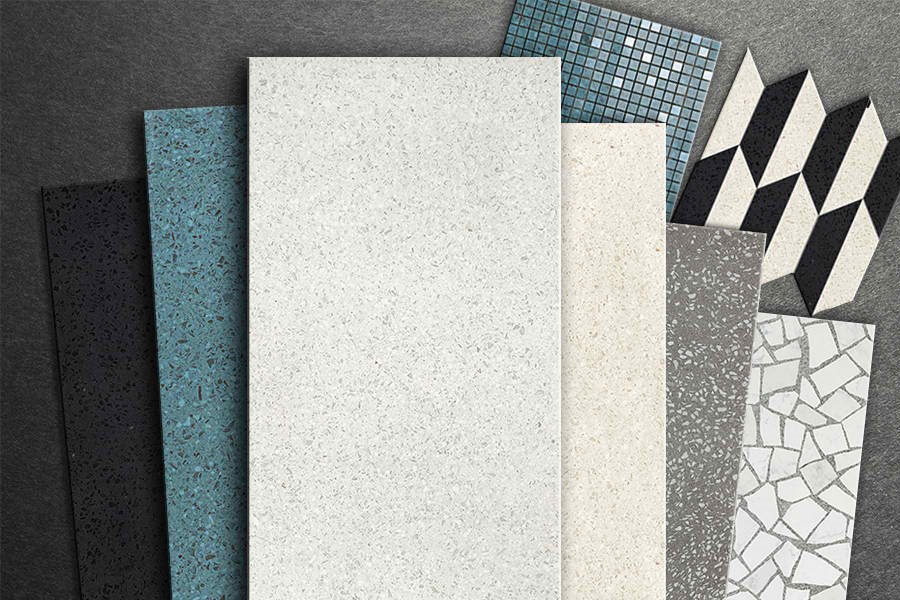 Here are sample textures that you might want to take a look for terrazzo. These are raw samples of the Marble Gems collection.
Luxury Showroom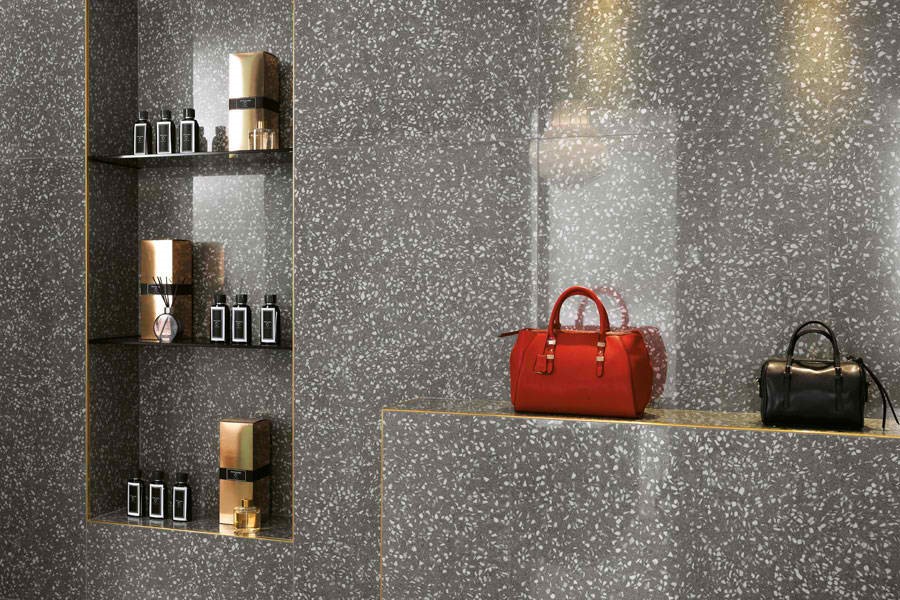 Combining the porcelain look with terrazzo stone connotes luxury and sophistication. The durability of terrazzo helps ensures that this set up will last for decades. It will require minimal cleaning. Cement grey was used as a neutral color and the honed smooth finish is used as a superb background for product display. The designer used contrasting colors on the floor, tabletop and shelves. Gold finish trims (Schluter Systems), lamp shades and other accessories where used to project the splendor of the shop.
Hotel Bathroom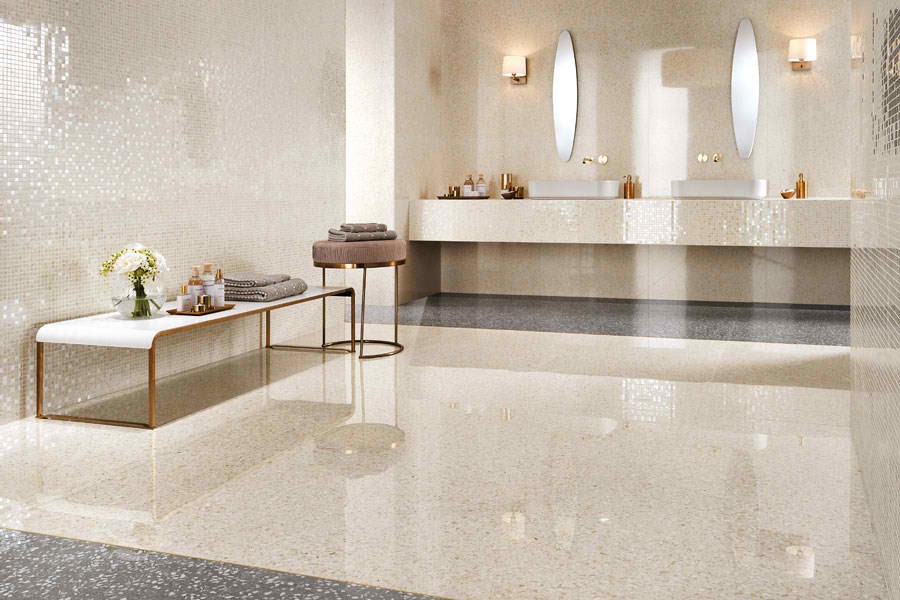 We love the way this bathroom was designed using Marvel Gems. The white mirror effect mosaic applied on the wall gives it a stunning luxurious effect.  Using lamps and gold finish trims makes the ambience look serene and luxurious. This design can also be applied to wellness and even high end salons.
Lounge Bar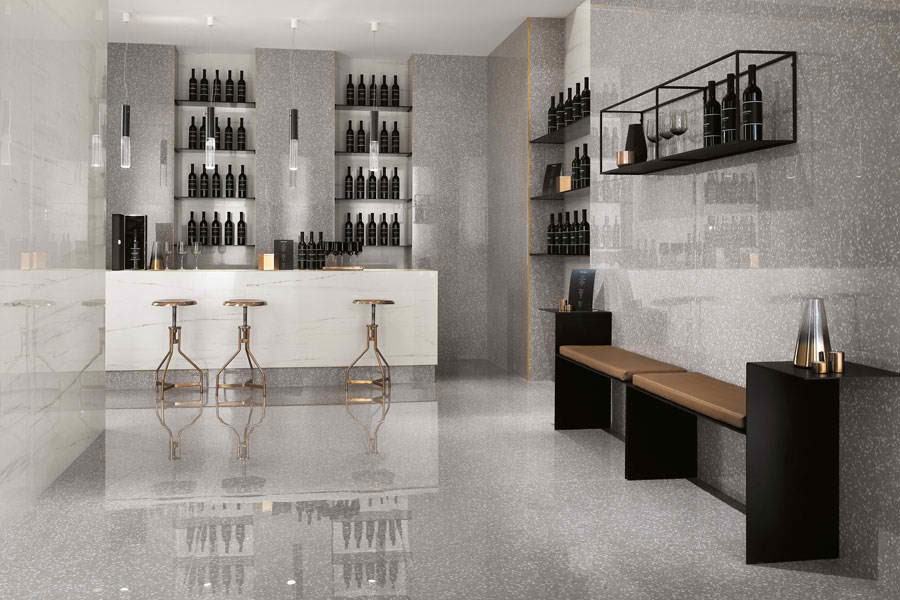 Looking for an elegant inspiration for a lounge bar project? Check this! This project utilized 75 x 150 cm and 8.5mm thick extra large format terrazzo tiles. This is a fusion of Marvel Stone Bianco Dolomite and Marvel Gems Pearl. Polished brass was accessories and equipments were used blending well with the terrazzo stone.
Residential Bathroom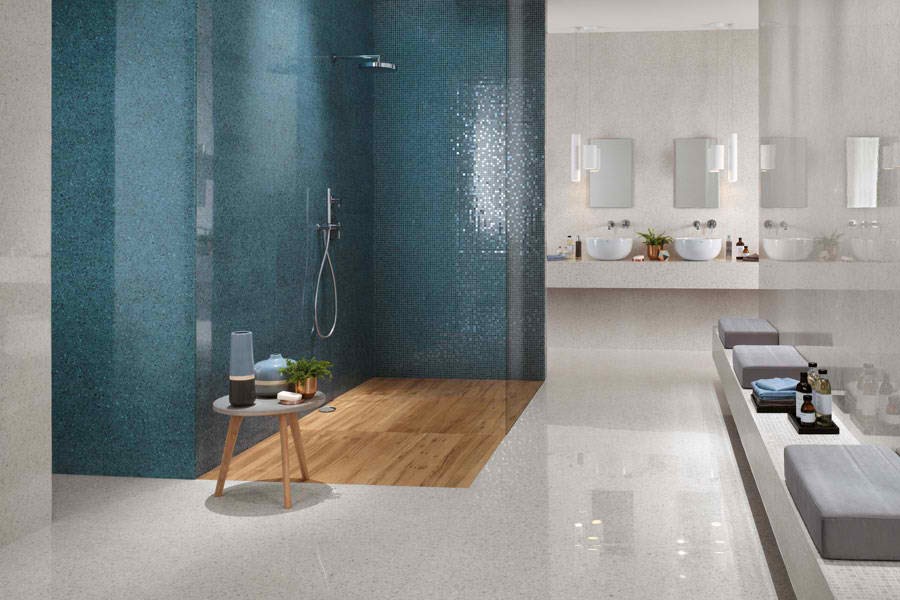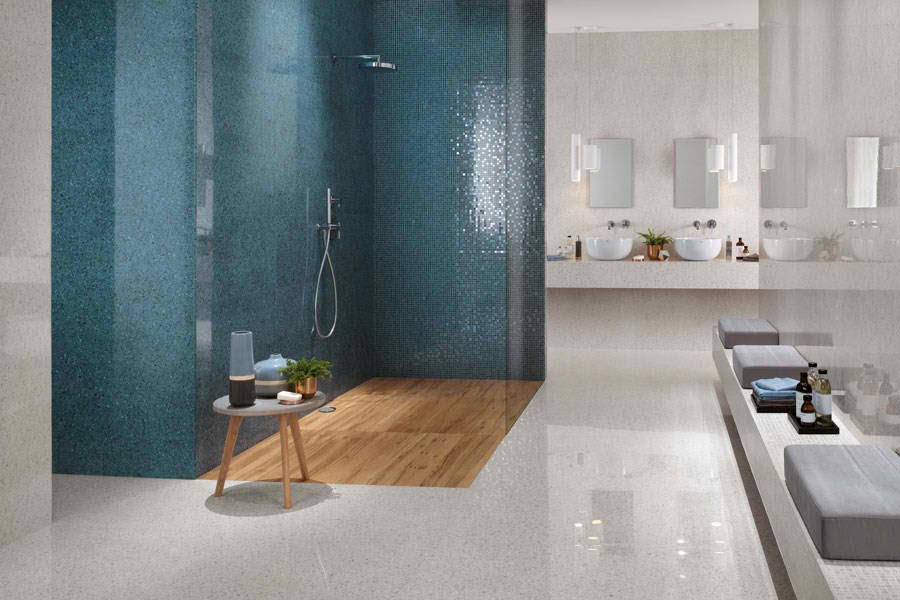 If you are looking for something fresh, this bathroom design might interest you. Blue mirror mosaic achives was used as the shower room wall. It created this luxurious feel. Wood was used as flooring of the shower room and furniture. White Marvel Gems were used as flooring and well for the rest of the bathroom. The combination of natural elements plus terrazzo stone gave it a modern look like no other.
Hotel Hall
Are you looking for something really stunning? Take a look at this hotel lobby design. The 3D art décor is composed of grey, black and porcelain white terrazzo tiles. The textures of the terrazzo stones gave more visual depth and modern look on the design.