Commercial buildings usually give businesses the flexibility of designing shops individually. But there will still be the general areas such as the hallways, lounge, and restrooms that require personality to distinguish the building as a whole from the rest of the properties around Sydney. Because these general areas are mostly spaces that will not have many elements, perhaps some furniture pieces and plant pots at the very least, it is important to maximize the flooring to define the space and give it personality. Designers can get stuck with limited resources and budget to design these utility spaces, but with Terrazzo's flexibility for creativity, it becomes a much easier task to accomplish.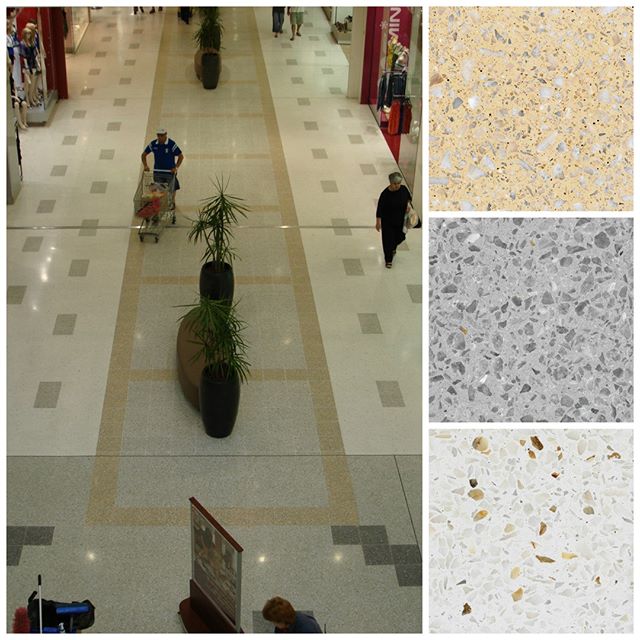 Colors are limitless
The design possibilities with terrazzo for commercial buildings are endless. Because of the number of color combinations which can be achieved by combining different aggregates, designers are literally given freedom to explore and incorporate art into an every day space. It is important for designers to understand the different materials and aggregates that can be combined. With different hardness and colors, these aggregates can create outstanding colors to add personality to common areas of the commercial building.
Installation made easy by experts
Building owners, project owners, and contractors can work smoothly and easily with terrazzo experts during the conceptualization up to the installation phase. Having expert advice on how commercial building spaces can be maximized comes in handy especially for spaces which aren't part of the busy side of Sydney. The building is almost always identified by how it looks and what makes it distinct from other buildings in the area. Terrazzo experts can guide builders on how to make common spaces the outstanding piece to remember for visitors.
After-care is conveniently available
One of the most important considerations for high-traffic commercial spaces is maintenance and after-care for flooring. Terrazzo floors are feared to chip away and crack because of its complex make and strucutre. But such concerns shouldn't be a matter of discussion at all because of the after-care services that's usually provided by terrazzo companies. Understanding proper care and maintenance practices will help prolong the state of terrazzo floors, but expert care will always be available and provided by good terrazzo providers in Sydney.


Talk to our team today to learn how your commercial building project can maximize Terrazzo for flooring and partitions.