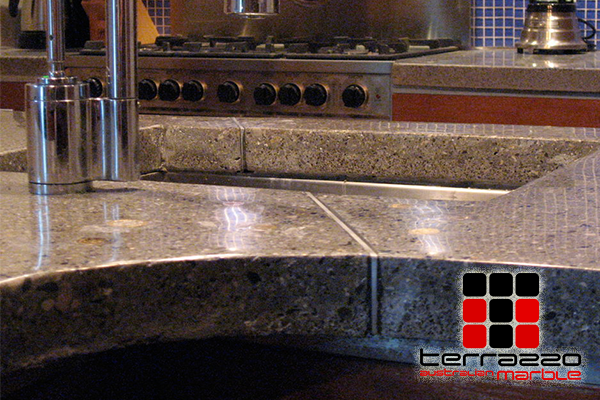 Terrazzo has been in existence from the time it was first created by Venetian workers in the early 1900s to make use of all the excess marble that the wealthier folk discarded and ever since then, it has become a classic and durable addition to countless infrastructures everywhere.  This is a testament to terrazzo's durability and design timelessness.  Most recently however, builders and designers have seen that terrazzo can be used for more than just flooring.
If you are a homeowner looking to renovate your kitchen from top to bottom, you might want to consider using terrazzo not just for the floors but also for your countertops.  Why, you ask.  Terrazzo, because of its makeup and durability is especially ideal for kitchen countertops for the following reasons:
Countertops made from terrazzo do not conduct heat.  This means that if you set down a hot kettle directly on a terrazzo countertop, the heat will dissipate quickly without getting scorched or marked.
As its floor counterpart, terrazzo countertops when stained or scratched are easily cleaned and buffed back to its original form.  This attests to terrazzo's long sustainability and resilience – attributes you want to see in your chosen building materials.
Design flexibility – because terrazzo is made up of different materials, there is a uniqueness to each piece created.  Not only that, terrazzo is also highly customizable and you are only hindered by your creativity.