A- Artistic. B- Beautiful. C- Colourful. D- Durable.
The possibilities are limitless! That is the first thing you need to know about this brilliant construction material. For hundreds of years Terrazzo has aptly demonstrated why it has become the tile flooring material of choice in the most enduring and most beautiful structures around the world.  Since it was first discovered and used by Venetian workers in Europe centuries ago, Terrazzo use has spread all over the world because of its innate beauty and permanence.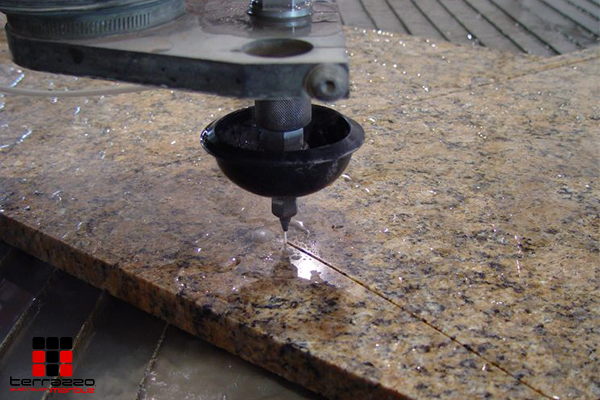 Artistic. Terrazzo as a construction material has proven that creative use of it has no boundaries! This dazzling material is now highly used as a striking canvass to show intricate company logos in business offices and works of art by avant garde artists, and as room or building centerpieces by most renowned interior designers and architects around the world! Only one's creative imagination and exploring mind is the limit to what one wants to create with terrazzo.
Beautiful. Terrazzo is beautiful anyway one looks at it! Its brilliance transcends the ages. Whatever finish whether a Sealed Polished Finish which is the standard finish recommended for commercial retail projects for terrazzo. The terrazzo floor is ground on site and a protective shiny sealer is applied to the surface floor. The sealer is maintained to ensure that the glossy floor always looks like new and like the day it was first handed over. Machine Polished Finish, where the terrazzo floor is ground and machine polished on site with a penetrating sealer applied for added durability. This finish is suitable for low foot traffic areas. Honed Anti Slip Finish, where the terrazzo floor is ground on site to a honed finish, and if a non-slip finish is needed a non-slip additive is added to the manufacturing process. The use of epoxy grout is highly recommended as its special sealant.
Colourful. The colour choices for terrazzo are limitless! This is a great starting point when choosing the right combination for one's flooring, wall claddings, stairs and risers, and partitions for homes, offices, restaurants, specialty shops or shopping centers. One is presented with a wide range of colours to select from. And, if one is looking for something quite different and distinct, our representatives can create a specially designed colour mix specifically for your home, office or shop. A design and colour concept especially tailor-fit to your specifications!
Durable. Because terrazzo is amazingly tough, it can outlast even the structure it is installed in, reason why it is suitable for just about any use you can think of. One can use it externally on high traffic foot areas such as pavers in walkways, pool side areas, terraces and driveways or indoors as flooring for hotel hallways and office lobbies. As walls, stairs and risers, skirting, wall panels, coving, benchtops or public furniture. To top it all, if it is properly sealed its water resistance properties and ability to repel stains make it an equally good choice for kitchen countertops, showers, baths and swimming pools and bathroom partitions as well.
Oh, and if you haven't noticed it yet, Terrazzo is extraordinarily versatile as well and that's not even the last thing about it!