If you are looking for the best quality flooring material that is conveniently versatile and which will certainly meet the many tiling requirements of a lot of individual tastes? Terrazzo definitely fits in in this description perfectly. Terrazzo is tough, beautiful, easy to clean and maintain, it's perfectly perfect, truly it is mateys!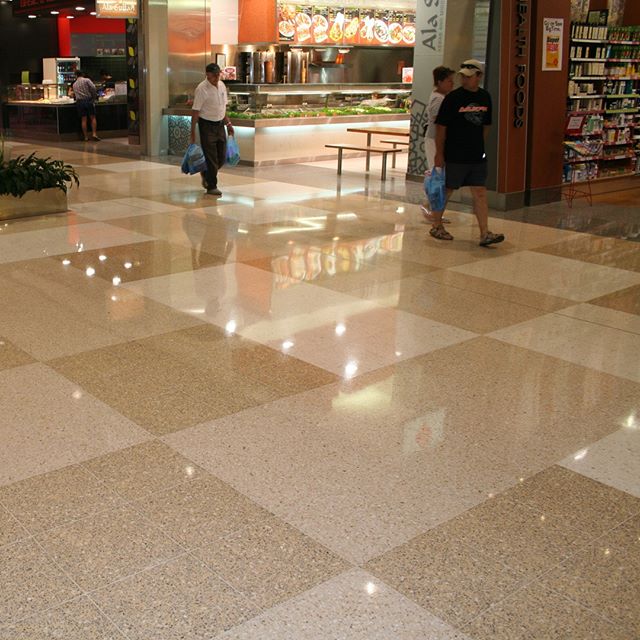 Terrazzo tiles and pre casts (Terrazzo can be used for table tops, benches, partitions, pavers, steps and risers, skirting, wall panels, coving, benchtops, columns, public furniture and a lot more) comes in a myriad of colors to choose from plus an endless collection of designs only your artistic mind can imagine. Sophisticated and fashionable homeowners and modern urbanised construction ventures can benefit the most with the added flexibility that it brings to a project. Terrazzo most certainly provides the added luxury and style in every development it is utilised big or small: State of the art Homes, Office Lobbies, Restaurant and Cafes, Deluxe Chic Stores, Mall Promenades, Luxurious Hotel Entrances, Foyers and Hallways, Park Walkways, Shopping Centres and Train Stations and Airports.
Production Control all the way!
Control of the whole production system and process is Terrazzo Australian Marble Pty Ltd.'s recipe for Terrazzo tile's and its pre cast materials success in the construction industry, from the material's extraction from our very own marble quarries in western NSW to manufacturing our precast elements in a factory in western Sydney. This modern factory has been equipped with the latest equipment from around the world including tiles presses, 5 axis CNC processing machines, CNC edge polishers and saws enabling the company to have the ability to produce material of exacting standards. Each terrazzo tile and precast product passes through strict and stringent quality standards and quality control even before it reaches your home or construction site for installation so that you are assured of the highest quality standards.
Strict Quality Control
The entire production process and finished materials are checked and certified through our own regular inspections and quality control procedures. We take the extra steps to test our own Terrazzo products for strength, abrasion resistance, and water absorption. We take it upon ourselves to see to it that only the best quality terrazzo materials and products come out of our factories at any given time. Terrazzo Australian Marble Pty Ltd takes pride in our trusted name through the years!
Design Concept with Lots of Colour Combinations
For your interior design concept or architectural building plan remember, whether you're going for a minimalist, subtle elegance or a more up-to-the-minute and intricate idea mateys, terrazzo can deliver the style of your liking. By using terrazzo, "beautiful and durable" come hand in hand! Plus, the great number of colour combinations gives you the option to play around a bit!
With these many advantages, terrazzo is also fairly lightweight in terms of load compared to other construction and building materials, it is suitable for large scale flooring projects on high rise buildings and condominium properties. Technically speaking Terrazzo tiles and pre cast products are really an excellent choice for large construction projects where load factor is an important consideration.
So, for the choicest flooring and pre cast materials choose Terrazzo mate!