A good and reliable reputation precedes a dependable company. When you give importance to what you are manufacturing and deliver highly exceptional results to projects, then your company name will stick out and be trusted and remembered through the years. Terrazzo Australian Marble Pty Ltd has been in the terrazzo business for more than 40 years and still going strong!  Its unparalleled experience and expertise in the marble industry has been one of the company's strongest points.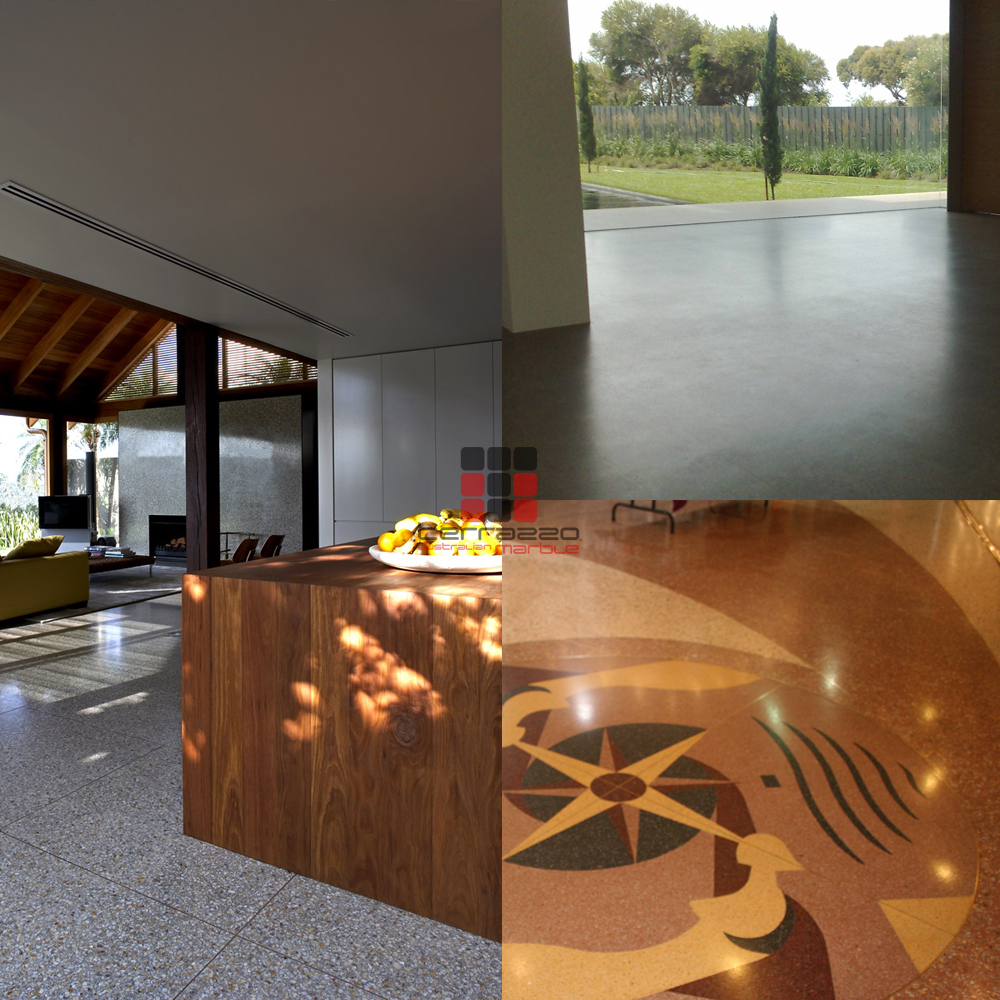 Our world class Terrazzo tiles, pre-casts (Steps and Risers, Skirting, Wall Panels, Coving, Benchtops, Columns and Public Furniture), pavers, partitions (Toilet and Shower, Vanity Tops and Urinal Screens) and in-situ are well accepted and recognized as some of the best in the construction industry by architects, building owners, interior designers, homeowners as well as restaurant and shop owners.
We pride ourselves in controlling every stage of the terrazzo production process from start to finish:  obtaining, cutting, finishing to polishing and installation. Terrazzo Australian Marble Property owns and operates 5 marble quarries in western NSW and manufactures its precast elements in its factory in western Sydney. Our modern factory is equipped with the state-of-the-art equipment from around the world including tile presses, 5 axis CNC processing machines, CNC edge polishers and saws enabling the company to have the ability to produce finished materials of exacting and rigorous world standards. The company likewise installs all of its products with a team of dedicated craftsmen whose experience in terrazzo is unchallenged in the terrazzo production industry.
Our renowned terrazzo tiles and other marble products have been installed in some of the most demanding environments in Australia during these past 40 years. Airports, railway stations, ritzy shops and restaurants and upscale shopping centres with high foot traffic have all seen the benefits of terrazzo tiles with the ease of installation and years of trouble free day to day maintenance. Terrazzo tiles are laid, grouted and machine polished on site. New and modern processes have allowed a durable finish that achieves a non-slip texture for foot traffic safety. The company's other supplementary products mentioned above are mostly pre casts where all the elements are manufactured in the factory and are brought on site for easy installation. And by the way, the colour combination of terrazzo provides for the widest selection ever in a wide-ranging variety of applications in the construction industry. New colours and designs can even be made especially for discriminating and demanding clients!
Strict company standards and compliance to stringent industry rules and regulations are exercised so that quality and excellence are always assured with each and every product that comes out of the factory. This is a strong affirmation of the company's dedication of providing only the best products to its demanding clients because we value our company's good name gained and nurtured through the years.
We, at Terrazzo Australian Marble Pty Ltd can proudly say that you can trust our superior quality terrazzo products when it comes to your construction and home projects. We never compromise excellence!