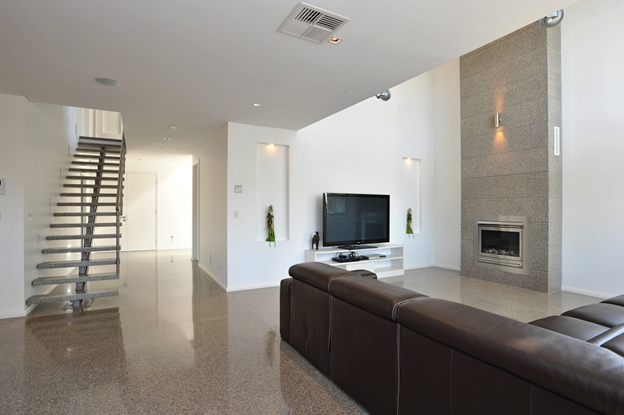 Exuding excellence in both design and function, terrazzo tiles is a sight patrons of the design and architecture admires.
Uniqueness of Terrazzo Tiles
Bound by cement a mixture of marble, granite, quartz, or glass chips produces an eco-friendly material, terrazzo tiles, which make it attractive and is one of the toughest tiling materials in the industry. With the mixture, terrazzo floorings retain the aesthetic qualities of non-cement additives achieving a stunning look almost similar to pure stone or ceramic tiles.
Versatility is key in making this tile unique. Since terrazzo tiles are manufactured by mixing different elements, you can almost customize how yours would look like. You will be able to control the design and color of your tiles to achieve the design that you want.
Being one of the most durable tiles in the industry, like cement floors, it is impermeable to water and stain damages. Since these tiles do not chip like the other materials available in the market, applying it for both your interior and exterior floorings is possible.
Installing Terrazzo Floor Tiles
These tiles can be applied like traditional tiles or they can be mixed, poured, and completed directly on site. This gives you more flexibility in terms of your design and preferred installation method.
When installing, make sure that the tiles are laid onto a concrete subfloor. You may install a concrete board before tiling, if your subfloor is made out of wood. Make sure that the adhesive product you will be using is suitable for the surface where you will be applying the tiles to.
Take note that for every type of surfaces, a different kind of adhesive is required. To make sure that the terrazzo tiles are installed, it is good to note that each stone should be embedded in the adhesive. After installing, you will need to grout between the lines. Then polish and crystallize your terrazzo tile the same process you do with your marble or natural stone floors.
Cleaning and maintaining your Terrazzo Floorings
Just like any tiles, terrazzo tiles needs to be cleaned. You may always use a natural soap and marble cleaners can be easily purchased from your local supermarket. However, for cleaning a very dirty floor, a buffing machine and fiber disc would make it easier for you. Enhancing the beauty of your terrazzo tiles can be achieved by regular waxing.
Producing or purchasing an intricate material should be done with a partner that has established its credibility in the industry. Being present in the industry for over 40 years, Terrazzo Australian Marble Pty LTD prides itself in controlling all aspects of the terrazzo process. Located in Sydney, the company creates and installs all of its products with experts in the industry. To know more about our products, you may visit https://terrazzo.net.au/tiles/.