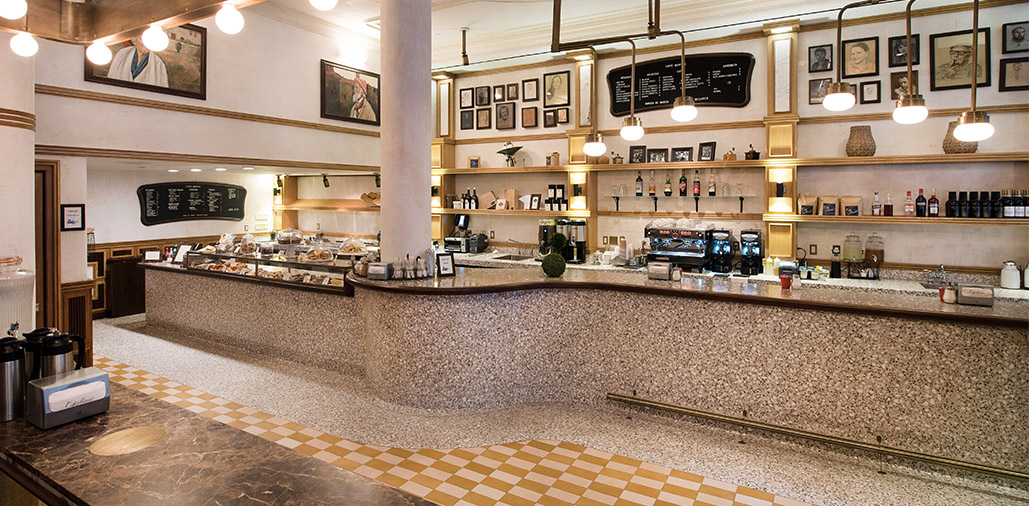 Creating a modern haven for coffee lovers would be a designers' dream. The elements in play could range from bright colored lighting fixtures, to soft textures such as throw pillows. But how do you incorporate texture and personality into flat surfaces and match it with the elements embodying coffee and the rest of the cafe's menu?
Add sparkle and warmth to the barista area with Wood and Terrazzo countertop
An important area where customers and barista interact would of course be the barista's serving counter. The common element found in this area is of course wood, which adds warmth and a natural touch to the surface. One can add glamour and sparkle by having a terrazzo countertop beside the wooden area.
Ghost chairs and glass tabletops
Pieces of "ghost" furniture, or those that appear as glass and are transparent came into the mainstream after these were used for events such as glamorous weddings receptions and celebrations. Adding such pieces of furniture against bright-colored walls can add a modern, dreamy feel to a café's interiors.
 Geometric shapes plus terrazzo dividers in toilet
Another trend that made its way to restaurant and café interiors is the addition of geometric shapes and clear lines. The concept of geometric shapes and lines came in as a contrast to abstract and less-structured designs. Bringing this to the most basic corners of a café, such as the toilet and washroom, can add a quirky personality to the modern café. Having unusual geometric shapes for the toilet lighting fixture, for example, matched with terrazzo toilet partitions which appear with less-structured patterns and aggregates, create a good contrast and brings out a modern twist to a typically unnoticed area of the café.
There can be other elements that can bring out the modern café's look and make a coffee-lover's break more pleasurable than usual. To explore how you can incorporate Terrazzo in the café's interior design, talk to our Terrazzo experts today.