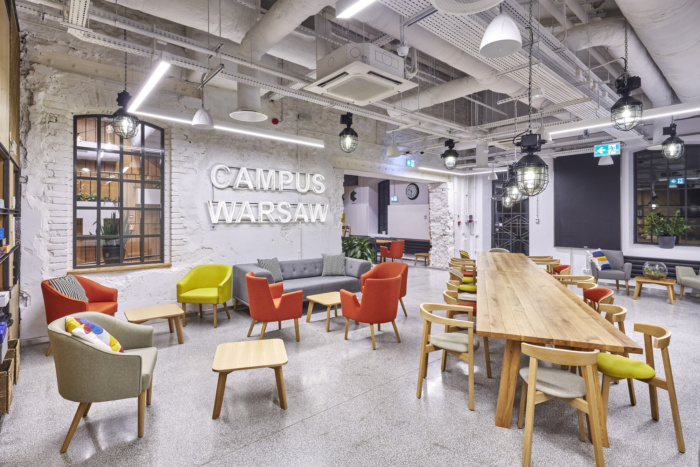 The chaos of today's nonstop internet era can be disconcerting for many young professionals. The creative industry has seen a rise in stress levels among designers and artists. Many of these young professionals are choosing to work from home in the hopes of finding a comfortable and less distracting space where they can free their minds to focus on the design process and on creation. There is currently a worldwide growth in demand for co-working spaces as they provide a middle ground for home and work space. From bean bags, to hammocks, to terrazzo floors and wooden bar chairs, the variety in co-working space designs have continued to offer a wide range of "comfort and function" for many young professionals not only in Sydney but across Australia, Asia and Europe.
How can co-working spaces be more conducive for work for young creatives?
Interior colors can keep things easy on the eyes.
With the digital nature of most design and creative work these days, creatives can get pretty glued to their screens. The effect of having easy-on-the-eyes interior design makes the creative process easier throughout the day. Since some co-working spaces run 24/7, having cool colors in the day and warmer tones at night can make the space comfortable for designers. From floor to ceiling, choosing the right color of materials is key. Best to consider lighting along with colors such as getting lights that can be dimmed if the flooring is Terrazzo marble with white aggregates. Mint green walls can also be matched with warmer lights at night to help lessen the impact of white light being emitted from screens.
Cushion plus electrical sockets always save the day.
Young creatives now have different styles of working. Comfort remains a common denominator. With laptops as the main gadget, it is important to have as much cushion on chairs or on the floor as possible, while keeping electrical sockets nearby and less obstructive. Phones and laptops require charging throughout the day. Having cushioned chairs or areas to lounge in and electrical sockets without having to switch areas consistently makes the work space functional and comfortable.
Ergonomic as much as possible.
To match the comfort of cushions, co-working spaces can also offer ergonomic furniture to encourage movement and mobility in the work space. Standing tables encourage people to leave the cushioned chairs and floor bean bags to stretch their legs and promote correct posture. Ergonomic chairs also prevent unnecessary body pains caused by the dormant nature of digital work.
There are many other ways these co-working spaces can be designed to create environments that stimulate creativity and productivity. When talking about flooring for co-working spaces, interior designers can talk to Terrazzo experts to see the range of colors to achieve the ideal flooring for sections of the co-working space.