When you enter most of today's shopping malls, business office lobbies and hotel grand entrances or upscale restaurants it is almost a given that the first thing you will notice are either their fabulous facades or their intricate flooring! And, there is a large chance their flooring is made from terrazzo tiles and their steps and stairs and furniture are surely to be terrazzo pre casts too!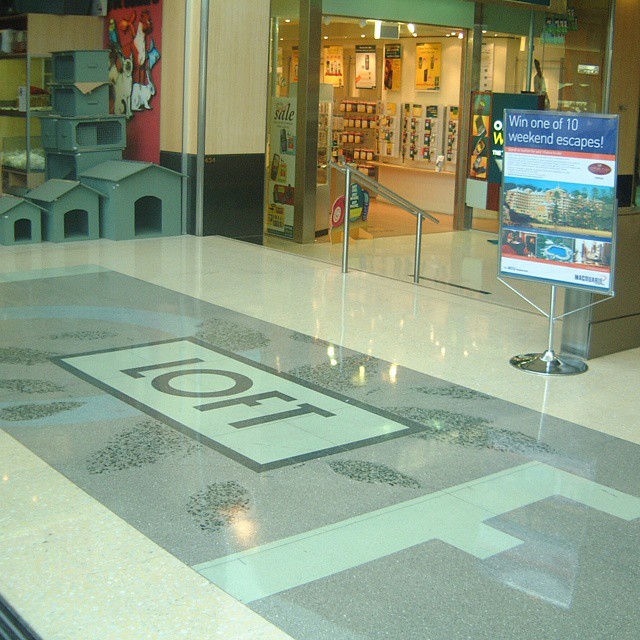 Contemporary Terrazzo tiles and numerous pre cast products add that different kind of sophistication to a shopping mall, specialty shop or office building it is installed in. Most Terrazzo tiles are laid, grouted and machine polished on the site to create a seamless floor with the grout at level with the tile enabling easy daily upkeep. It is manufactured from the highest quality materials that are mixed together. Innovative and eye-catching designs can be produced to your liking by the best artisans around.  If you're walking into a first class hotel lobby or a high end-establishment such as a shopping mall, an eye-catching floor hits your senses right away and gives you that sense of luxury! Since Terrazzo tiles and pre casts has a wide selection of finishes and innate and elaborate designs, one is provided with a lot of flexibility with its special and durable finishes.
A Sealed Polished Finish is ideal for high traffic areas such as shopping malls and restaurants because of its well accepted durability and strength. Sealed Polished Finish–the standard finish recommended for commercial retail projects.  The terrazzo floor is ground on the site and a protective shiny sealer is applied to the surface floor. The sealer is maintained to ensure that the glossy floor always looks like the day it was first handed over. Machine Polished Finish–the terrazzo floor is ground and machine polished on site with a penetrating sealer applied for durability. This finish is suitable for low foot traffic areas. Honed Anti Slip Finish–the terrazzo floor is ground on site to a honed finish. If a non-slip finish is the required one, non-slip additive is added to the manufacturing process which will not wear off even with an extended period of time.
Terrazzo gives you the flexibility to make the most of its many different uses. Use it as tiles (either as terrazzo tiles or in-situ that is poured on site or pavers in walkways) or as pre cast building material (very stunning and useful applications have been achieved to include stairs, steps and risers, skirting, wall panels, coving, benchtops for kitchens, bathrooms or lavatories, and work areas in general, columns, shower partitions and engineered stone partitions and more recently public furniture in parks and walkways). Terrazzo Pre cast is available in exacting standards in various sizes and attractive finishes. The pre cast method of application lessens the work time required considerably as the pre cast products are simply made and polished at the factory prior to its installation on site!
Terrazzo is functionally applied in a lot of great-looking floors and pre cast finished products, reason why you should practically use it too!