You literally step on this attractive floor material almost every day when you go to shopping malls, enter a posh hotel lobby or a swanky restaurant, a modern office lobby, busy airport or railway station. But, do you ever notice its intricate design or beautiful finish? Most probably not, right! That's because you have become so accustomed to it! Today terrazzo is an inescapable indispensable building material in architectural construction and interior design planning. It is well known and established that terrazzo is an innovative builder's dream come true construction material because of its beauty, durability and permanence. The design possibilities it offers are also virtually limitless. Terrazzo tiles are long-lasting, versatile and design and colour flexible.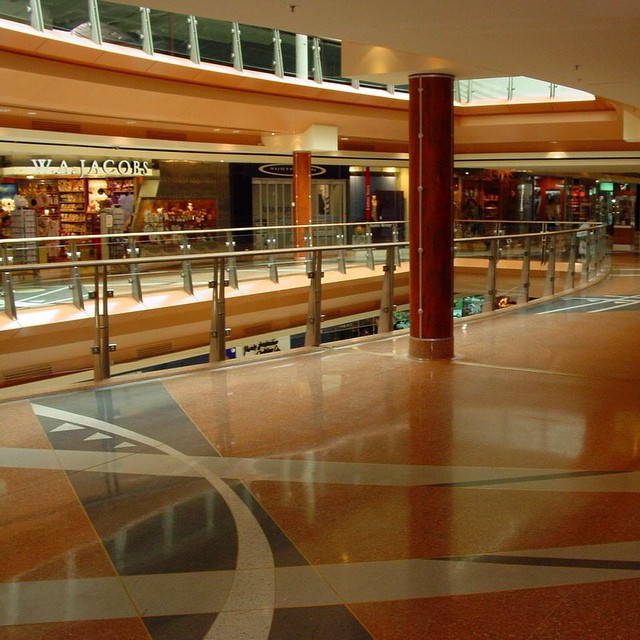 But do you know that terrazzo is more than just a great flooring material, sure it brings life and colour to the many building structures and numerous places that it is installed in! By the way, terrazzo tiles and In situ terrazzo are the traditional finish often used by clients who are having commercial spaces constructed since it stands up to high foot traffic areas really well and with its honed anti slip finish, it is proven safe to walk on even during wet conditions. Most builders and interior designers choose terrazzo for a true and seamless finish or for flooring that need to incorporate logos, artworks or complex designs. Terrazzo floors can match the aesthetics and design of the place it is usually installed in, it can become the centerpiece or it can complement the structure as a whole.  By the way every terrazzo floor is a unique work of art by gifted artisans and craftsmen! This is true because no two terrazzo floors are exactly alike! That is the exclusivity and uniqueness of this wonderful centuries old flooring material!
Three basic types of terrazzo floors
Epoxy terrazzo – the most versatile, strongest and most commonly used type of terrazzo in the market today.  It is practically resistant to scratching, fading, staining and cracking. It is typically installed in structures that have multiple levels. Epoxy terrazzo is not suitable for outdoor installation.
Cementitious terrazzo- This kind of terrazzo is heavy and requires laying a thick cement subflooring or foundation to start.  This type of terrazzo is ideal for both indoor and outdoor use especially in heavy foot traffic areas.
Polyacrylate terrazzo – this kind of terrazzo uses a combination of cement and latex which helps in strengthening the mixture allowing a much thinner spread and therefore "cures" quicker than cementitious terrazzo.  This type of terrazzo flooring is actually preferred for homes which already have existing level floors. It is more flexible compared to cementitious terrazzo and often includes post-consumer glass aggregates in the mixture.
Because terrazzo flooring has become more exciting and innovative with the many aggregate materials being developed  and put into use such as glass that brings about added clearness and depth giving about colour from deep red to blues to greens and crystal clear finishes. Glass can match any intended design plus add the needed brilliance to otherwise mundane floors and walls. Now you can appreciate terrazzo as more than just beautiful flooring you step on!