Yes, your eyes aren't deceiving you about the headline above! We are dead serious when it comes to design terrazzo and the artistry that is involved in its manufacture, application and installation! There's no room for the littlest of errors or even second guessing once a project is on the drawing boards and ready to take flight and be realized! It almost always is a work of exquisite art which is painstakingly fashioned by highly skilled craftsmen who take pride in their works.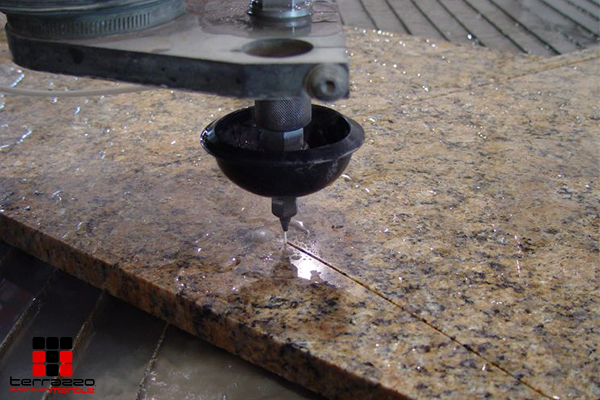 Original designs are hewn out of ordinary terrazzo to make it into something that is out of the ordinary and simply finished products that are beautiful and a sight to behold or to be walked upon, seated upon, or worked upon such as a kitchen benchtops and other work preparation areas, or as wall panels, steps and risers public furniture, columns, coving, skirting, partitions in bathrooms and lavatories and as vanity tops and urinals and more recently as fashionable terrazzo home decorative art pieces!
Could you imagine the most recent development in Australia where even a Terrazzo BBQ benchtop was recently installed? Surely, something such as this type of first of a kind out-of-the-box idea would open innovative and exciting new dimensions to terrazzo ' already many applications! It's unquestionable that there are still a lot of novel ideas out there waiting to be discovered in terrazzo treatment. Only one brave and innovative and inspired new designer or a new building design movement who has the vision to break new barriers in modern terrazzo applications! That unique and bold individual prepared to risk his name or a bull strong company willing to stake its reputation and take that unknown step towards uncharted terrazzo territory and break new barriers in the building industry.
We are ready, able and enthusiastic to take new challenges and face novel routes in terrazzo design and applications in the construction industry. There are no boundaries to what the future of terrazzo offers to newly inspired architects, interior designers and homeowners willing to take the risk in using terrazzo as their material of choice!
Every terrazzo industry player is aware that terrazzo installation is seen as a serious project where the minutest of detail is continuously taken into consideration. Including the design and the creativity involved in its installation. Are you going to use the terrazzo installation where there is high foot traffic area, or a hotel/restaurant lobby or swank shop or in your own modern day home? The best choice of aggregates you want to use, its innate style, the colour combination you want and the ultimately its special finish.   
Long company experience and dedicated expert craftsmen plus the right high grade marble materials and the most advanced and latest equipment from around the world including tiles presses, 5 axis CNC processing machines, CNC edge polishers and saws that enable the company to have the capability to produce material of rigorous standards. These are the things we offer and the commitment to inform the end users that we are dead serious when it comes to terrazzo design and installations.