As a professional businessman it is natural that you place your business interests as one of your top priorities! It may possibly be doing well because of your sweat, blood, money and competent personnel. And, as such you certainly want to offer due reverence to your company's esteemed logo by etching it on your office floors. For sure the company is one of your dreams that came true and is your bread and butter and source of being or accomplishment so to speak! Now, you want your loyal clients and people in general to see your company logo the very minute they enter your business headquarters. You, like any other successful businessman want that your company make a mark and be recognized everywhere or at least in your business. Remember your company logo is part of your image and brand building tool.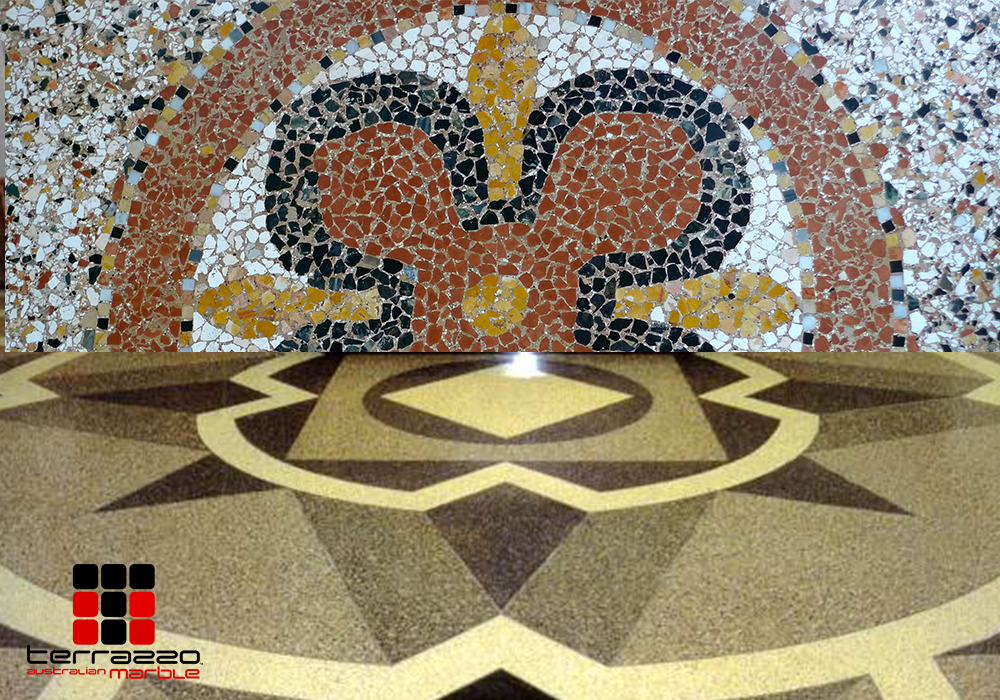 Now the best terrazzo flooring material to use when one wants to incorporate one's logo in their floor is to use In situ terrazzo. It is one of the strongest building materials available that can withstand high foot traffic areas through the years. It is the premium flooring product that is perfect for incorporating logos, terrazzo art, shapes and colours. In situ terrazzo is usually poured on site for a true one-piece finish. For Sealed Polished Finishes that is perfect for high foot traffic areas such as business offices, restaurants, shopping malls, airports and train stations because of its well accepted durability and strength. Sealed Polished Finish–the customary finish recommended for commercial retail projects.  The terrazzo floor is ground on the site and a protective shiny sealer is applied to the surface floor. The glossy sealer is maintained to ensure that the lustrous floor always looks like the day it was originally handed over. Machine Polished Finish–the terrazzo floor is ground and machine polished on site with a penetrating sealer applied for added durability. This finish is appropriate for low foot traffic areas. Honed Anti Slip Finish–the terrazzo floor is ground on site to a honed finish. If a non-slip finish is the required one, non-slip additive is added to the manufacturing process which will not easily wear off even with an extended period of time. In situ terrazzo contains bits of marble, quartz, granite, glass or other suitable chips; sprinkled and poured with a very strong binder that is cementitious, chemical or a combination of both. In situ terrazzo is usually treated, ground and polished to a smooth surface and finish.
Highlight your company's logo and design colours when you incorporate it on your office terrazzo floor installation. A unique colour can be custom made for you as accurate as can be. Your logo can be etched to exact specifications with the most advanced processes with tile presses or cut on an advanced 5-axis CNC Processing Machine where the cutting tool moves across the X, Y and Z linear axes as well as rotates on the A and B axes so that it can cut the material from any direction at one go. The modern CNC Edge Polishers and Saws nowadays have the ability to produce finished products to precise specifications.