Terrazzo has always been a popular choice in a lot of floor projects in shopping malls, airports, shops, hotels, restaurants and public areas. Now, there are terrazzo-inspired award winning designs as recent winners for the best use of interior materials at Castello Bondi project and is a recent big winner at the inaugural Luxury Builders Awards.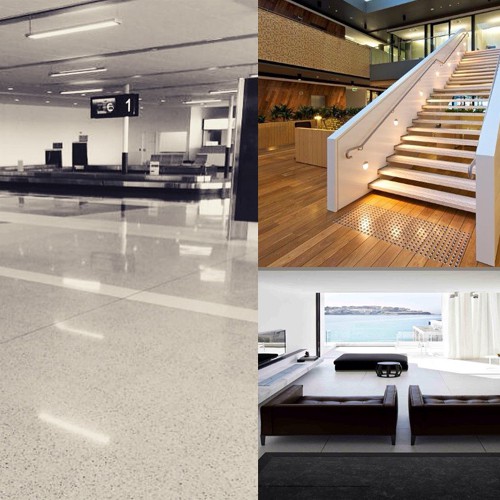 Belle Luxury Home Building Awards showcases the state-of-the-art and most elite designs and building workmanship from around the Australian continent. Only the most sophisticated materials, superior finishes, and incomparable artistry best describe the outstanding projects that got the coveted nod at the inaugural Belle Luxury Home Building Awards. The winners are considered the best of the best in their categories!
While terrazzo tiles and pavers and its pre cast products are known and recognized as a stunning and durable building material it is also acknowledged as extremely versatile in the construction industry. Terrazzo has become a popular choice for upscale residential designs. It has been widely installed in high-impact flooring ventures, splash backs and more recently for decorative purposes in the interior design industry with great promise! It is now well appointed that renowned and well respected interior designers now use terrazzo based decors and centerpieces in their grand designs and building projects. Now, that is the workings of a creative mind!
For the longest time, terrazzo has been widely used for tiles, table top, benches, partitions, pavers and pre casts that include steps and risers, wall panels, coving, benchtops, columns and public furniture. It comes in a variety of beautiful colors with an endless assortment of designs. Terrazzo products could contain any, all or a combination of marble, granite, quartz, glass, sea shells, metal shavings, wood or any other suitable chip, sprinkled & poured with a binder that can either be epoxy , cementitious or of polyacrylate finish depending on where and how you want to use it. Now, original and more imaginative applications are in store in using terrazzo. One instance of a new and exciting application is The Castello Bondi project where a terrazzo installation entry has been awarded as Best Use of Interior Materials (Alterations & Additions) in the recently concluded Luxury Builders Awards for its terrazzo designed kitchen installation for benchtops, splash boards and flooring. This is a fresh step forward towards finding new ways to utilise terrazzo in the home building and designing industry. Not only is terrazzo being applied in floors and as precast building materials, but also as innovative and striking materials for ingenious decorative ornaments.
Australian homeowners are bringing in that extra touch of luxury into their homes such as fashionable terrazzo floor designs, useful kitchen benchtops and splash guards to extravagant living room interiors, enthralling patios and even elaborate bathrooms. Terrazzo-based materials have become standard request inclusions. And because terrazzo is inexplicably artistic, beautiful, colorful and durable, it is the natural choice of the best architects and interior designers around the country and wise homeowners who want only the best in their dream homes! That is why designers and home builders are now finding new and exciting techniques to come up with award winning designs.