It's no secret that many architects, developers and interior designers use and specify terrazzo because it is one of the most versatile, beautiful and strongest building materials available in the construction industry. Terrazzo floors are close to being almost impenetrable and proven durable through the years.  With proper care and the correct maintenance methods one is confident that it will stand the test of time. Now, with regards to the now very popular terrazzo pre cast materials, it will definitely provide you with a wide assortment of applications and create design combinations that will make realizing your projects easier, faster and more enjoyable.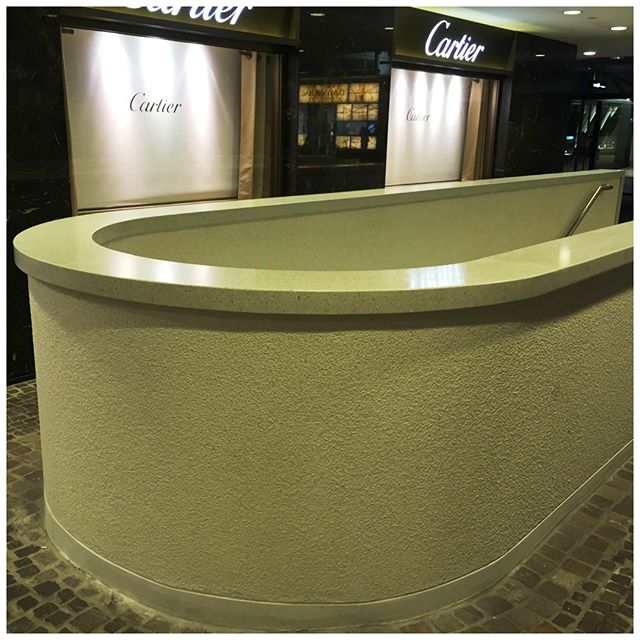 Terrazzo tiles are usually acknowledged for its ease of installation and years upon years of trouble free maintenance, it is laid, grouted and polished on site, while in situ terrazzo is poured in place in large swathes for a true seamless finish and ground on site, and then there are the so called pre cast building terrazzo elements that are readily manufactured to exacting standards that are tailor fit designs from the clients and polished in the factory for easy on site installation. Terrazzo can be used extensively to come up with beautiful hard wearing tile floors or In situ floors or as Pavers in walkways that can withstand the elements and are anti slip at the same time for added safety. The pre cast applications now boast of uses that include Stairs, Steps and Risers, Skirting, Wall Panels, Benchtops for kitchens and other work areas, Covings, Bathrooms or Lavatories, Columns, Shower Partitions and Engineered Stone Partitions and more recently as Public Furniture in parks and walkways. It is uniquely versatile and the colours and designs are practically limitless. Terrazzo can contain any, all or a combination of marble, granite, quartz, glass, sea shells, metal shavings, wood or any other suitable chip, sprinkled & poured with a binder that can either be epoxy , cementitious or polyacrylate finish. These elements make it a truly adaptable building material.
Using terrazzo and other pre casts in development projects, homes, shopping centres, or commercial structured ventures give one that sense of modernity and influence in these luxurious-discerning times. Today, a big percentage of upscale homeowners utilise terrazzo in their houses: from their front yard patio, in their living rooms, in their swimming pool areas and private walkways. Even their stairs, kitchen benchtops and bathroom areas have that touch of terrazzo in them. Now, well established Avant garde interior designers even use terrazzo decors and centerpieces in their masterpiece installations! It's that alluring to the creative minds of geniuses!
Terrazzo floors and pre casts have the ability to lavishly complement the other nuances of the structure it is installed in whether it is bold and striking or subdued and simple. Helping to enhance the beauty and splendor of a place or provide that added touch of aesthetics to the floor design! Using terrazzo floors and pre casts shows that you have the gift of foresight and understanding of what is the best out there in the construction industry.