The beauty and elegance of Terrazzo is timeless, but people don't realize that its installation process is an art form in itself!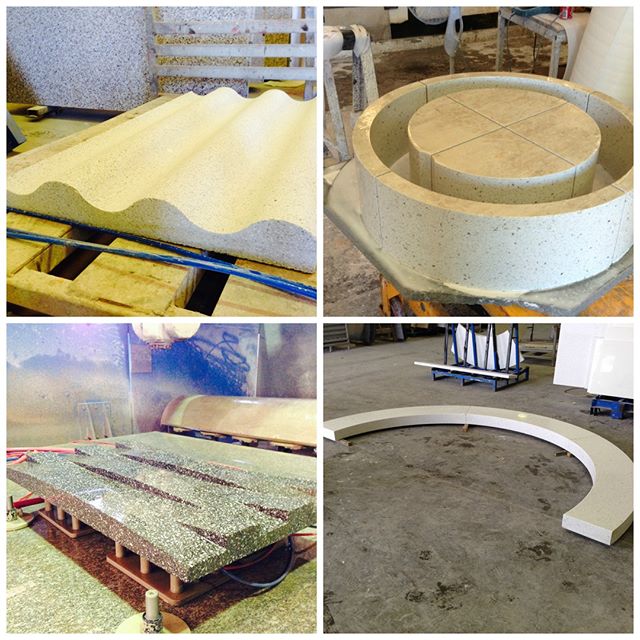 More often people's wonderful stories regarding their terrazzo experience are founded on its beauty, elegance and innate durability of the finished product.  Understandable enough since the mining, finishing and installation processes are often hidden from the public. It is only true enthusiasts of fine terrazzo who can understand and are familiar with the intricacies with the makings of a single terrazzo tile or a pre cast undergoes even before it is installed as floorings, wall panels, stairs or benchtops. Usually it is the skilled workers and craftsmen who see through the material and have the trained eye to appreciate it more.
Special processes in terrazzo production start even during the mining stage. It is extracted in quarries where only the best quality marble are chosen, mined and cut.  Once in the factory these "raw materials" are processed with tile presses or cut with the latest 5 Axis CNC Processing Machine. A "5-axis" machine refers to the number of directions in which the cutting tool can move to cut the tile all in one go. On a 5-axis machine, the cutting tool moves across the X, Y and Z linear axes as well as rotates on the A and B axes so that it can cut the material from any direction. CNC Edge Polishers and Saws offer the capability to produce material to exact specifications. Some finished products are pre cast in the factory for easy on site installation. One requires real craftsmen to create and install beautiful terrazzo!
There are different installation processes for terrazzo.  There is the "in situ" method. This is the premium flooring product in the market, "in situ" terrazzo is poured on site for a seamless finish. This is the traditional terrazzo finish seen in the shops and houses throughout Venice, birthplace of terrazzo. Then there are finishes for "in situ" terrazzo: Sealed Polished Finish – The standard finish to commercial retail projects. The floor is ground on site and a protective shiny sealer is applied to the floor. This sealer is maintained to ensure that the floor looks like the day it was handed over. Machine Polished Finish – Floor is ground and machine polished on site with a penetrating sealer applied. This finish is suitable for low traffic areas. Then the Honed Anti-Slip Finish – Floor is ground on site to a honed finish. If a non-slip finish is required a non-slip additive is added during the manufacturing process.
Terrazzo tiles have been installed in demanding environments in Australia. Airports, railway stations and shopping centres have seen the benefits of using terrazzo tiles for easy installation and years of trouble free maintenance. The tiles are laid, grouted and machine polished on site.
Pre cast terrazzo allows for easy on site installation. The usual pre cast products are: Steps and Risers, Skirting, Wall Panels, Benchtops, Columns and Public Furniture.
Most people admire the beauty of terrazzo only when they see the finished result; they don't realize that before they even walked, sat or worked on that terrazzo, the route it underwent even before its installation was an extensive and lengthy one. Surely, one would have higher opinion of terrazzo!