Terrazzo is perfect for high rise buildings where there are lots of multi-level floors. One important consideration, terrazzo is a fairly light-weight building material compared to others, you can easily lessen the load concerns of the building structure tremendously as the project progresses to the top floors which add to the weight considerations of the building or high rise condominium or shopping centre. Also, you can easily utilise pre cast terrazzo, which are pre-designed to your specific needs to exacting standards to finish the project at a faster pace.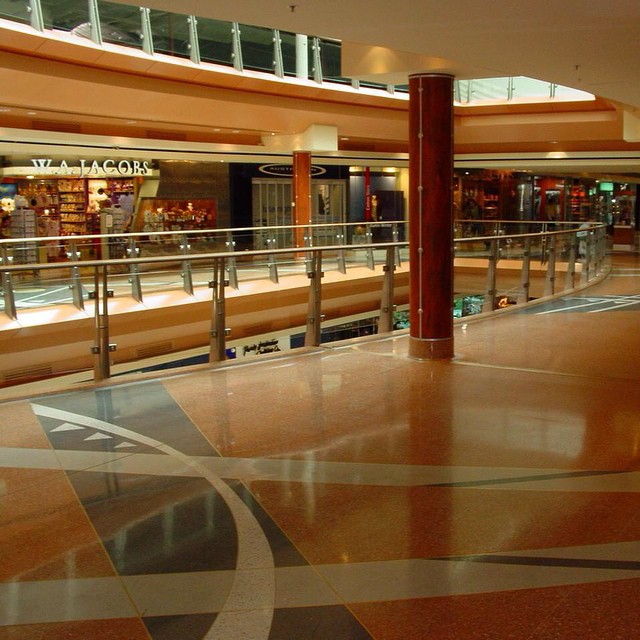 Since Terrazzo offers a wide selection of finishes and innate, elaborate designs, the developer is provided with a lot of flexibility with the special finishes to boot for their particular needs!
Sealed Polished Finish—the standard finish recommended for commercial retail projects.  The terrazzo floor is ground on the site and a protective shiny sealer is applied to the surface floor. The sealer is maintained to ensure that the glossy floor always looks like the day it was first handed over.
Machine Polished Finish– The terrazzo floor is ground and machine polished on site with a penetrating sealer applied for durability. This finish is suitable for low foot traffic areas.
Honed Anti Slip Finish–The terrazzo floor is ground on site to a honed finish. If a non-slip finish is the prerequisite a non-slip additive is added to the manufacturing process that enables the floor to achieve at least an R10 finish that will not wear off even with an extended period of time.  Light colours are not recommended to be chosen for this type of finish and epoxy grout is recommended as its special sealant.
A lot of people know for a fact that colour sets a mood. Terrazzo offers the widest choice of colours available in the flooring industry as well as in pre cast materials.
Property developers, interior designers and architects know that colours set the tone for a particular experience. White projects a peaceful setting, black and greys a subdued atmosphere, neutrals a relaxed mood. The right combination can even make a small space look bigger and more cozy or can make it more laid back and inviting and serene. If you're considering something different and distinct, a special colour can be created and a designed mix made specifically for your home, office or shop. A colour tailor-fit to your design specifications!
Terrazzo floors are always a smash where ever it is used, when bits of shiny aggregate catch the light and reflect glistening effect. Natural stone chips, marble, granite and quartz are some of the best selections for terrazzo finishes. Some also use glass pebbles, synthetic chips and silica bits that offer an endless display of colors. Intricate designs can be created to match your imagination. You can create simple walkways and building lobbies into works of art. Terrazzo is extremely durable and resilient. That is why terrazzo tiles are a top choice for flooring material in high foot traffic areas.
The true terrazzo magic is when you can always blend style and durability with elegant function even with big construction projects!