Yes terrazzo is picture-perfect to use for your outdoor flooring and precast furniture! Because terrazzo is impenetrable to water and other liquids, it is completely watertight which makes it a great construction material for outdoor use. Terrazzo tiles, pavers and precast elements effortlessly combine durability, strength and design in its numerous open-air applications.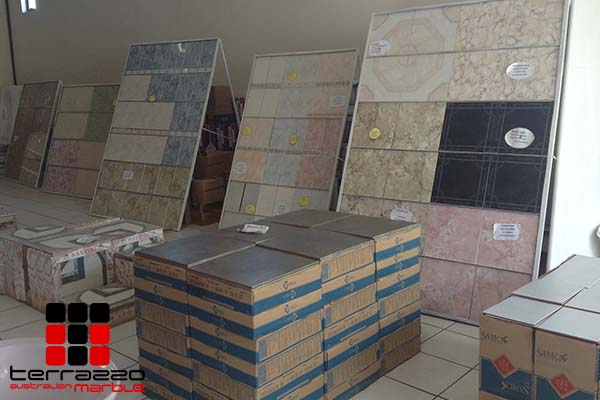 Let your creative imagination soar high outdoors whenever you use terrazzo materials. You get flooring that is extremely beautiful, strong and durable. Terrazzo Pavers that can stand any weather conditions come rain or shine or even sleet and with a honed finish that are anti slip at the same time for everyone's safety. Now, the more amazing and unbelievable aspect of terrazzo comes to fore, it is when you use it as outdoor precast building components such as public furniture that are custom built and factory-made in any design concept that one can think of and come up with! Practically anything can be manufactured, just provide us a design concept and leave the rest to us! What more one of the many benefits of terrazzo is colour choice, which is endless to say the least especially with the different aggregates used and pigments applied to the finish! You can even specify a particular colour scheme of your own if you are looking for something quite different, a representative will be happy to work with you to come up with a personalized mix specifically intended for your project.
You can utilise terrazzo flooring outdoors in your swimming pools areas, home open air veranda and lanais or in outdoor park walkways and public area promenades.  How about using terrazzo as beautiful pavers in shopping centres open space expanses and airport terminals and train station receiving areas? To date the outdoor applications of terrazzo are limitless!
Terrazzo's water resistant property is infinitely obvious and its innate ability to repel most stains makes it an equally good choice for your new and classy state-of-the-art newly installed outdoor benchtop and countertop for your barbecue area. After all terrazzo does not permit the growth of harmful bacteria. This non-porous system does not support any microbial growth that can cause the spread of disease. Cleanliness is after all always a must. For all you know that terrazzo outdoor benchtop you have always wanted could be your own personal reward to yourself. It's alright to be proud once in a while and if you are satisfied of what you have around which you have worked hard enough to deserve to have at the same time.
You can use terrazzo floors near your pool areas and be assured that you have an anti-slip and mold-free environment under your feet whenever your children go swimming or take a dip in the pool. Plus terrazzo's lack of water absorption and porosity results in a surface area that needs only minor or negligible cleaning without the necessity of using extremely harsh cleaning detergents or chemicals to keep it squeaky clean at all times. Now you can appreciate why terrazzo and terrazzo precast elements are simply perfect for outdoor installations and applications!