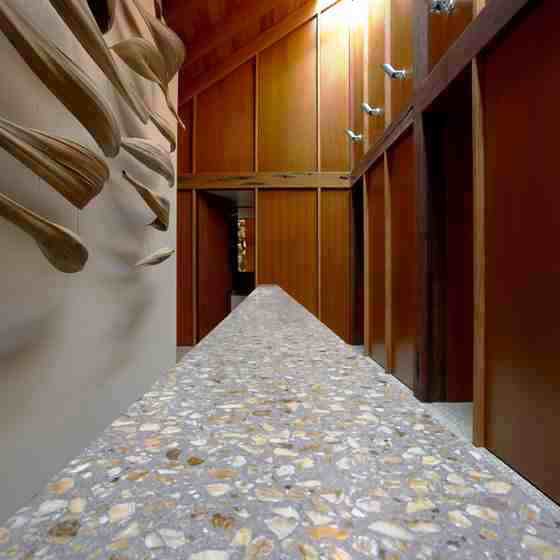 Terrazzo is a classic material that has been used in so many functions and forms in construction and interior design. Because of its flexibility and benefits, it has consistently been preferred by designers across Asia and the Pacific regions. In Sydney, Australia, Terrazzo remains as one of the top choices for flooring, counter top, and dividers. But creating the right Terrazzo mix requires understanding the parts and materials that constitute this widely-used material. One of which is the aggregates used in the mix.
Aggregates determine the colors, texture and overall uniqueness of your terrazzo design. Selecting the right aggregates will determine the success of your design's execution plus the long-term maintenance implications. Here are three tips when choosing your terrazzo aggregates.
Pick the aggregate that best brings out the color/s of your design with the right lighting – Because Terrazzo aggregates come from different materials and have different compositions, they basically come in different colors. Choosing the right colors to match your design isn't as hard because there are so many aggregates to choose from. The trick here is to understand the lighting of the space where Terrazzo will be laid out and test how light will bounce off, be reflected, or absorbed by the aggregate. Some aggregates may appear dark but when cool light hits it, it comes out with a much lighter shade of its original color. Different hues and warmth of light will give you a good sense of how it will appear on final lay. Also, do not be afraid to mix different colors of aggregates.
Varying sizes of chips brings out complex textures – Another layer of variety is mixing the sizes of the terrazzo chips. Suppliers can provide options on the sizes of the aggregates. Terrazzo chips can come in a range of sizes, between 0.1 up to 2, with 2 being the biggest chips. If you have a particular type of chip which you want to be emphasized in the design, you can make the size of those chips larger compared to the other chips. This adds texture to your design since the larger chips can retain much of its irregular properties versus the smaller chips which are reduced to really small bits.
Understand the hardness of different materials – Maintenance of terrazzo is key for longevity. One of the most common challenges of property owners is the chipping away of terrazzo bits. Replacing or repairing terrazzo can be a challenge especially if the supplier does not have supply of the original aggregates used in the original lay. This is where understanding hardness comes in. It is important not to pair soft aggregates with harder aggregates as this will require different surface grinding methods, polishing, and maintenance methods.
There are several other factors to consider when picking the right aggregates for your terrazzo project. Talk to Terrazzo Australian Marble today to get the best recommendations for your design.