The answer is why not? Really, that is the wisest answer available to the uninitiated in the intricacies of this wonderful construction material. For those not in the know, terrazzo offers a host of more pluses than minuses in the long haul! Read on and be enthralled with terrazzo's magic!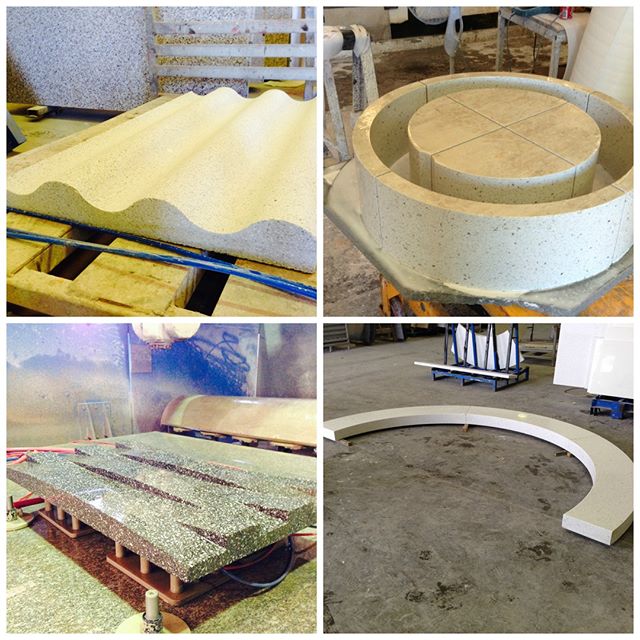 Versatile to the max!
Terrazzo gives you the flexibility to make the most of its many different uses. Use it as tiles (either as terrazzo tiles or in-situ that is poured on site or pavers in walkways) or as pre casts (very stunning applications have been achieved to include stairs, steps and risers, skirting, wall panels, coving, benchtops for kitchens, bathrooms or lavatories, and work areas in general, columns, shower partitions and more recently public furniture in parks and walkways). Terrazzo Pre cast is available in exacting standards in various sizes and attractive finishes. The pre cast method of application lessens the work time required considerably as the pre cast products are simply made at the factory prior its installation on site!
Extremely Durable!
Strong enough to withstand the test of time that it is believed that terrazzo tiles can outlast the very building it is installed in. You can use terrazzo even in high foot traffic areas and normal wear and tear is the least of your problems especially with today's many advances in the science of terrazzo production and methodology. Fact is terrazzo's permanence is most evident in mosaic tiles centuries old that have been found in near perfect condition in ancient buildings and plazas even in the most trying of environments in the Middle East and the Mediterranean.
Beautiful and Easy to Clean!
Beautiful, exquisite, outstanding, striking and luxurious plus a lot more superlatives and many grandiose expressions have been attributed to the beauty of terrazzo! And, the long list never ceases because an individual enamored to its natural beauty has his or her own impression of the materials' innate splendor. And to make terrazzo tiles even more the choice of the wise, it is so easy to clean: a damp cloth or mop will effortlessly wipe away accumulated grime and soot.  A polishing agent is then mop-applied and simply let to dry for a shiny new finish that looks like the day it was handed over!
Endless Colour Choices!
Infinite as the colours of nature itself! That is how one can describe the colour combinations a terrazzo tile can achieve through the various methods available in its aggregate mix and mixing agent utilised. If you are considering a colour that is truly different and distinct, a special colour can be created and a designed mix made especially for you! The number of collective colour options and combinations for terrazzo are amazing. There are the traditional marble and granite chips of all colors and sizes. Then, when using epoxy terrazzo, various colors of recycled and virgin glass can now be fully utilized, including but not limited to recycled mirror glass, bottle glass, plate glass and recycled porcelain.
Now, that you have read about the many advantages of terrazzo as a building material, would you not consider utilising its full potentials to your construction project and see its magic work. To think that even the biggest named Architects and Interior Designers use terrazzo in their most prized projects as often as possible!